Most useful customer reviews
18 November 2009
Quite Simply a God Send!
Really didn't expect to like this so much. Bought it based on a recent newsletter... seemed like an interesting product. Package arrived next day (got a text message telling me it shipped too!). Comes in a simple box, once I got it out it seemed to be of reasonable quality. After a few hours use I love it! - Holds my T-Mobile G1 perfectly in landscape and portrait mode. Perfect viewing angle for the screen. The card reader and USB work fine, but don't really need to use this that often. Even when it's not plugged in to the computer would recommend this simple as a great phone holder for any office or home. Most of my colleagues are ordering one too! Only thing is after a few days it seems to get less "sticky" (one star knocked off for that)
1 juni 2017
I would highly recommend this product
I needed a phone holder/charging dock... I ordered this item which arrived promptly... it was straight forward to setup & works a treat!!! I would highly recommend this product...
Fóris Kende
Szeged
LG Leon
24 maj 2017
Nice and compact
The item is nice, has everything a mobil user needs, and even more. The pack has a lot of charging heads, so you can charge older phones, or even cameras too. The stand has a nice blue light, and you need to clean it after cirka 2 weeks, if you use it often. You can insert various sd cards, so if you are using it via computer, you can copy data from it faster. For this price, its a quality item. Recommen to anybody who needs a charging stand.
471 Recensioner
|
Skriv en recension
---
Varför köpa?
Håller din telefon eller enhet på plats: liggande, stående och allt emellan
Blank och elegant design
Laddar nästan alla mobiltelefoner
Integrerar en tvåportars USB-hubb
Innehåller en 8-i-1 minneskortsläsare
---
Mer information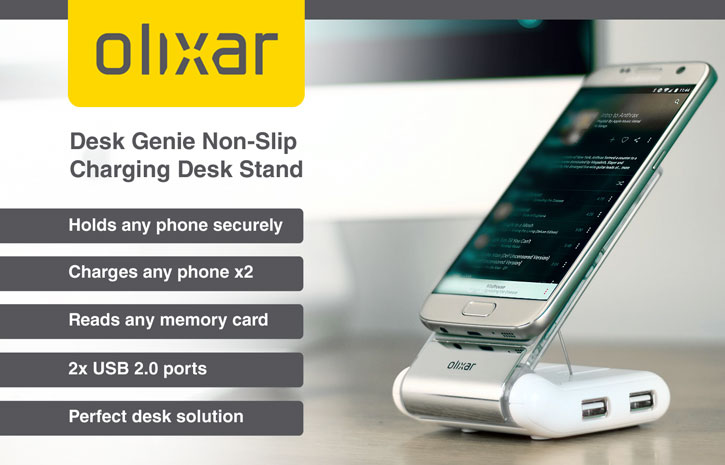 Desk Genie är den enda telefonhållaren du någonsin kommer att behöva.
Desk Genie ger dig en telefonhållare, universal laddare, USB-hubb och en 8-i-1-kortläsare.

Desk Genie är halkfri

Designad för att hålla alla enheter på plats använder hållaren ett speciellt material som enkelt greppar enheten. Den är även utformad så att om din telefon vibrerar kraftigt kommer den fortsatt att hållas på plats. Detta är tack vare den speciella ytan som är tillverkat av högteknologiskt gummimaterial. Telefonen kommer att hållas så pass bra att du tror att den har limmats fast, men det lämnas inte kvar några kladdiga rester varken på din telefon eller hållaren. Desk Genie kan hålla din telefon i en optimal visningsvinkel när du vill läsa din e-post, kolla på videos eller spela spel.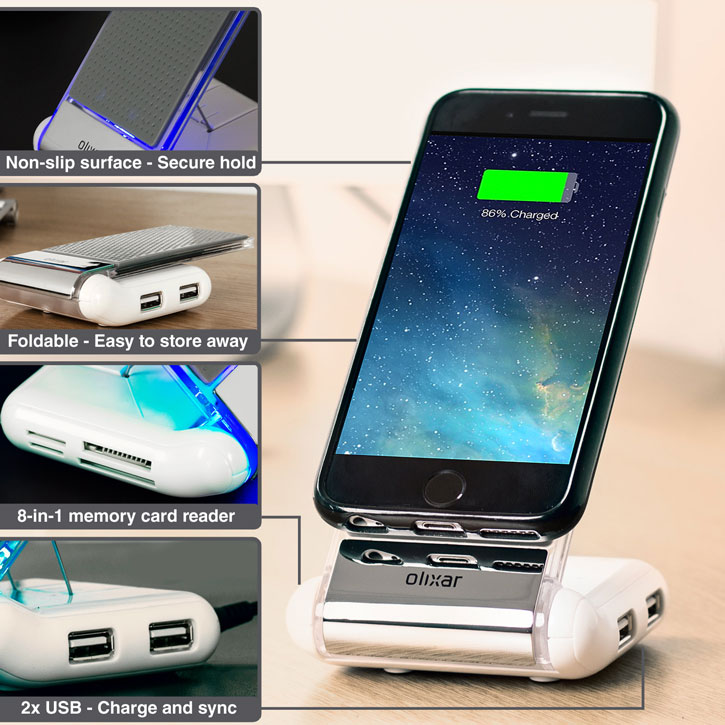 Långvarig
Då det med tiden byggs upp damm minskar självhäftningsförmågan på hållaren. Du kan enkelt torka rent dynan med vatten och därefter en ren trasa (använd inte lösningsmedel eller desinfektionsservetter) och Desk Genies magiska självhäftningsförmåga kommer att återställas.

Desk Genie är tillverkad av högkvalitativa material och avslutas till högsta nivå. Det innebär att den enkelt kommer att smälta in i ditt hem eller på kontoret samtidigt som det håller din värdefulla enhet.

Laddare
Desk Genie kan även ladda din telefon. En av fördelarna är flertalet toppar som medföljer som gör att du kan ladda vilken telefon som helst när den är placerad på Desk Genie. Kabeln ansluts enkelt till baksidan av Desk Genie och den andra änden går direkt till din telefon. De medföljande topparna fungerar även med iPods, utvalda GPS:er och MP3-spelare. Om en av de medföljande topparna inte passar till din telefon behöver du inte oroa dig eftersom du kan använda din existerande USB-laddningskabel med Desk Genie så att du kan ladda din enhet.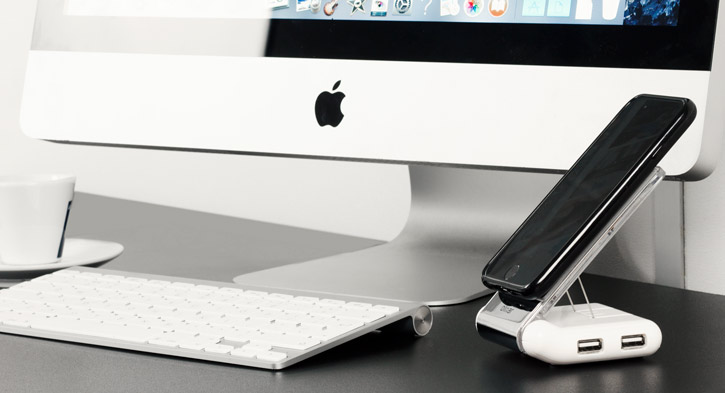 USB-port
Desk Genie har 2 USB-portar längs undersidan. Du kan använda USB-uttaget som en hubb till din dator eller laptop, vilket innebär att du kan stoppa in minneskort och Bluetooth-donglar för att överföra dina filer till din dator. Desk Genie är perfekt om din dator eller laptop inte har många USB-portar. USB-porten kan användas för att ladda enheter inklusive Bluetooth-hörlurar, GPS:er och MP3-spelare samtidigt som du kan använda dina favorit USB-gadgets. USB-hubben kan även användas till att synkronisera din telefon eller musiken.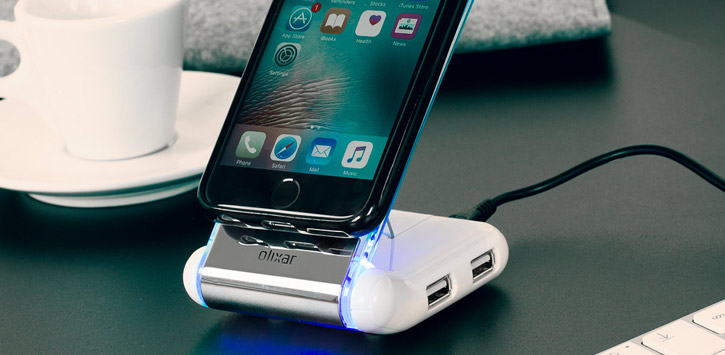 Kortläsare
Desk Genie håller inte bara din telefon säkert på plats utan har även 4 minneskortplatser som tillåter dig att överföra filer med hög hastighet mellan kortläsaren och din dator. Du behöver bara ansluta till en dator, sätta in minneskortet och du är redo att köra. Enheten är inte bara kompatibel med mikro-SD-kort utan fungerar även med 8 andra minneskort, inklusive SD- och M2kort. Till skillnad från andra kortläsare på marknaden kan du använda både mikro-SD- och M2-kort utan adaptrar.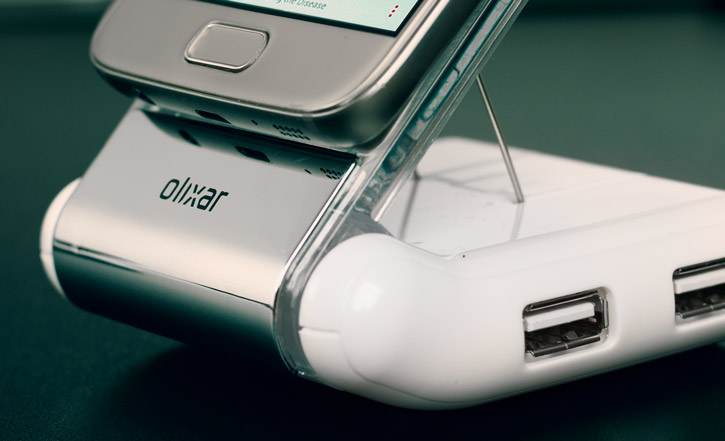 Fungerar överallt

Desk Genie kommer att hålla din telefon även om den är inkopplad eller inte. USB-kabeln är 90 cm lång och är designad för att användas bredvid en dator/laptop. Men om du vill ha den på nattduksbordet, i köket eller någon annanstans där en dator inte finns nära och du ändå vill ladda din telefon kan du köpa en USB Huvudadapter.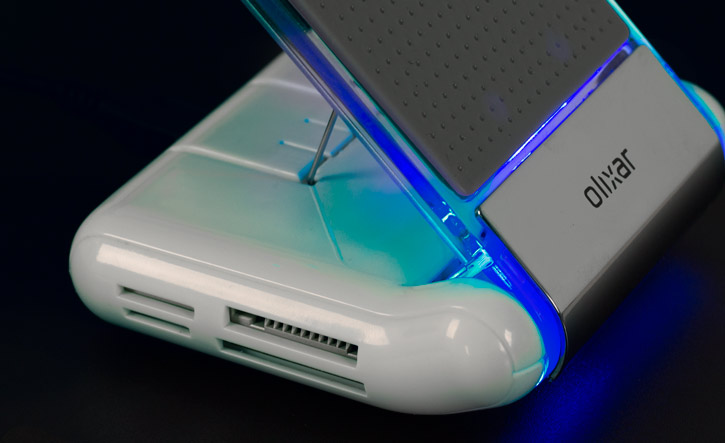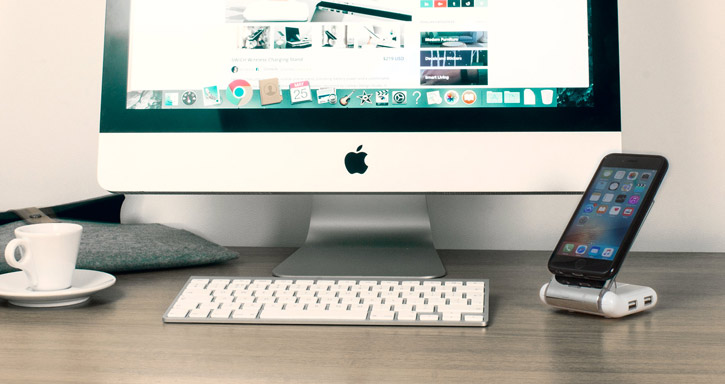 Funktioner:
Designed med ett halkfritt material
Håller stadigt din mobiltelefon eller tillbehör
Kompatibel med USB 2.0-specifikation
Bakåtkompatibel med USB 1.1
Koppla in och spela
Stödjer Windows 2000/XP/ Vista, Mac OS X och Linux
Dimensioner: 59 x 102 x 106mm (ungefär)
Vikt: 95g
Anslutningsdon:
iPhone/iPod
Nokia 2mm (fungerar med 5800, N95, 6700 och fler)
Nokia 3.5mm (fungerar med 3310, 6680, 6230 och fler)
MicroUSB (till Nokia N97/BlackBerry 8900/Samsung Omnia II och fler)
Mini-USB (till BlackBerry 8300 /HTC Hero/MP3)
LG (fungerar med äldre LG-telefoner)
Samsung Tip1 (fungerar med D900, U600, D800 och fler)
Samsung Tip2 (fungerar med Omnia, Pixon, Tocco Lite och fler)
Sony Ericsson Fast Port (fungerar med alla Sony Ericsson-telefoner)
Vad finns i lådan:
1 x Halkfri hållare med 2 USB-portar
1 x 90cm Mini-USB-kabel
1 x Laddare utgångskabel
9 x Mobil telefonkontakter
1 x Användarmanual