Most useful customer reviews
6 juli 2017
Works well
Works as good as any other phone holder, only just fits a pixel XL with a spigen case but holds it securely
Dejan T
Ptuj
Lumia 950 XL
24 April 2017
Item as described
Item was received promptly and well packaged. It is easy to mount and use. My Lumia 950 XL fits on it well, even with it's protective cover on. But it feels a little heavy, I hope it will stick. Have yet to try it on the road.
31 mars 2017
mixed reviews
When I read the description stating the in-car mount could accommodate mobile cases, I thought my Apple Silicone Case for iPhone 6 would be included. After driving a couple of miles on the first use however, the in-car mount lost suction and my phone fell. This startled me as it was unexpected. I simply removed the case and it has since worked a charm. I like the way it tilts. It's inconvenient removing and inserting the Apple Silicone Case for driving but not much of a hassle to warrant not using it. 5* driving without the case in-mount, 1* with.
1089 Recensioner
|
Skriv en recension
---
Varför köpa?
Använd på vindrutan eller instrumentbrädan
Positionera din telefon i valfri vinkel
Ger åtkomst till porten för laddare och hörlurar
Liten och diskret och skymmer inte sikten när du kör
Långvarigt grepp på både instrumentbrädan och vindrutan
Kompatibel med enheter upp till en bredd på 80 mm
---
Mer information
Positionera din telefon eller mp3-spelare i bilen på antingen vindrutan eller instrumentbrädan med OmniHolders bilhållare. Du kan positionera din enhet antingen ett lodrätt eller liggande läge.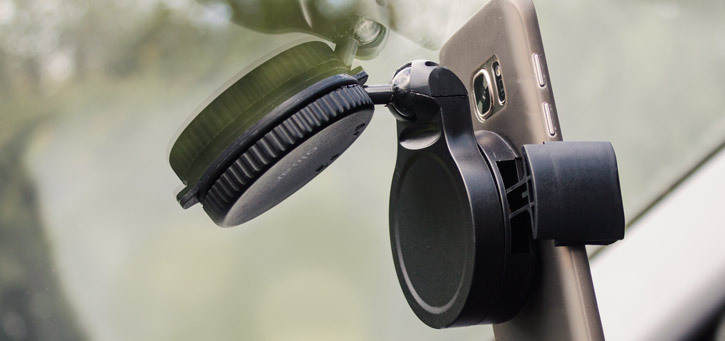 På vindrutan eller instrumentbrädan - du bestämmer!
Greppa din telefon eller mp3-spelare enkelt med bilhållaren från Olixar OmniHolder, oavsett om du vill installera hållaren direkt på vindrutan eller instrumentbrädan. Hållaren är förpackad med en självhäftande platta för att säkert fixeras på instrumentbrädan.

Hållaren kan diskret placeras tack vare dess lilla storlek. Hållaren är perfekt när du vill använda din telefon som en GPS. Med det justerbara och vridbara fästet kan du enkelt flytta hållaren från vindrutan till instrumentbrädan.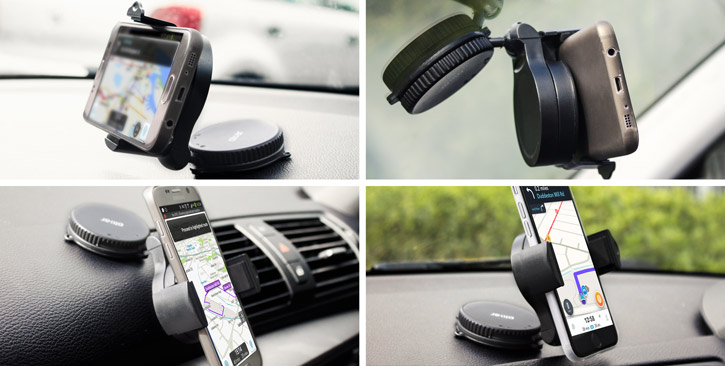 Positionera din telefon i valfri vinkel
Hållaren har en kulled så att du kan placera din enhet i en bekväm visningsvinkel.

Sugkoppsfästet erbjuder ett utmärkt grepp, oavsett vilken yta du placerar den på, och håller din telefon i ett säkert grepp.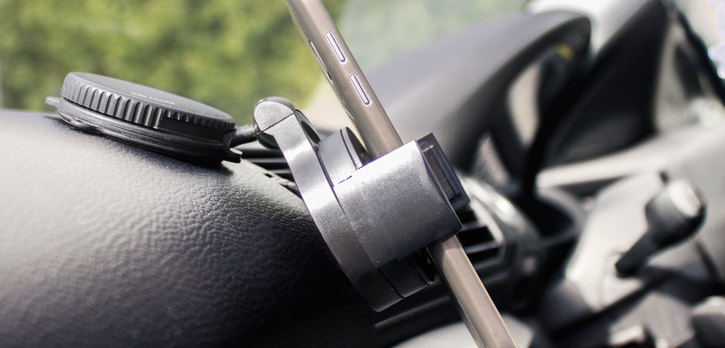 Kompatibel med enheter upp till en bredd på 80 mm
Armen kan förlängas upp till 80 mm vilket är tillräckligt till alla telefoner, förutom de allra största telefonerna.

Den förlängda armen på hållaren skapar ett säkert grepp som passar majoriteten av alla enheter, med eller utan skal vilket är hjälpsamt då du inte behöver ta av skalet för att kunna använda enheten i hållaren.

Hållaren ger enkelt tillgång till laddningsuttaget eller 3.5 mm till porten till hörlurarna.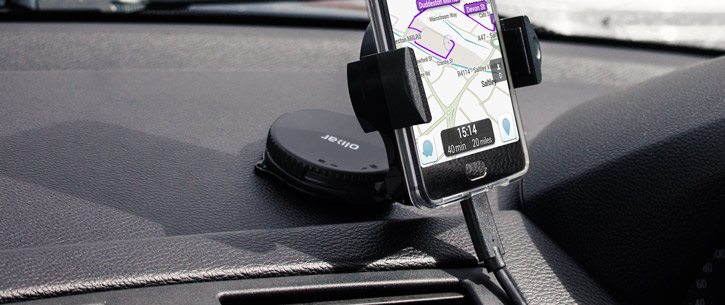 Mjuka kuddar i hållaren håller försiktigt din telefon och försäkrar att den är säker utan att det lämnas märken när du fäster eller tar bort telefonen från hållaren.

Kuddens dimensions är ungefär 6 cm.