SanDisk Mobile Ultra MicroSDXC Memory Card - 64GB
Artikelnummer: SDSQUNC-064G-GN6IA
Produktnummer: 32149
This tiny SanDisk 64GB transflash Micro SDXC memory card is perfect for storing photos, music and video. Also includes an SD card adapter.
"Brilliant products"
"Great product and service"
"Fantastic product at the right price."
Most useful customer reviews
Michael Millington
Wakefield
Sony Xperia xz
21 mars 2017
Brilliant products
Brilliant products excellent service
Martin Buckland
United Kingdom
HTC ONE M8
26 April 2014
Great product and service
Great product just what my HTC one m8 needed. Also got it next day !
Dean Barlow
Bury
Xperia Z1
17 januari 2014
Fantastic product at the right price.
I was slightly worried when I ordered that it might not work with my phone but my worries were unfounded. It works just fine and was simple to get going. I am not the most technology minded person but I had no trouble at all in transferring. my data to the storage card, I highly recommend this product and the price was superb, thank you
16 Recensioner
|
Skriv en recension
---
Mer information
Store more of anything you want with one of the biggest memory cards available.
More storage - more speed
The SanDisk 64GB memory card, which has more space to store your photos, videos, games, and much, much more. The memory card comes with a class 6 speed rating, which allows you to transfer items at 48Mbps. This means that not only will it hold more of your items, but it will also provide super fast transfer rates, so if you're transferring files from your memory card to your computer - or vise versa - it will allow you to do it within seconds.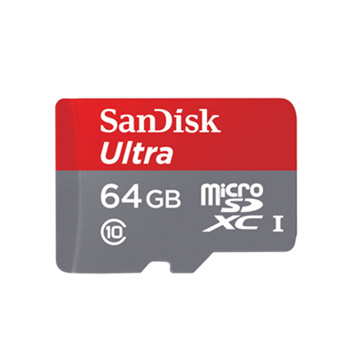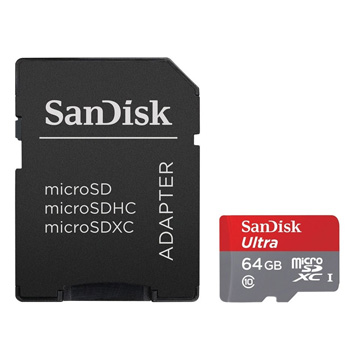 Use it on a wide range of devices
The card also comes with an adapter, which allows you to convert it from Micro SD to full SD so you can use it in other devices, such as digital camera, which is perfect if you love to take loads of pictures or record videos on equipment other than your phone.
SD card adapter included
Need 64GB for storage for an SD device? No problem, simply slip the micro SD card inside the SD card adapter and use your memory with other .
Store more of what you love
This tiny memory card will allow you to store approximately 30,000 digital photos, more than 2,000 albums of your favourite music artists or more than 24 hours of 720p HD video. Giving you more than enough space to store everything you want (and more) on this memory card.
Features:
No additional card adapters required
View, edit, and copy photos/data/music
Compatible with Windows Vista, XP, 2000 and Mac OS X
Easy to install and use