Most useful customer reviews
20 februari 2015
Universal Charging Station
Very handy bit of kit, great service and delivery as usual. Would like the option to add additional connection leads for more devices. But overall very pleased
Graeme Barrie
Falkirk
Ipad 2, Iphone5
9 oktober 2012
Excellent piece of equipment but don't believe the compatibility
The Universal charging station is a quality piece of equipment. Feels well built and does everything it says on the tin - Well almost..... The compatility page on the website states Iphone 5 compatible - As the Lightning adapter is rarer than hen's teeth I thought this would be a quick way to charge the phone at home however the one adapter it does not come with is the lightning so be prepared to pay another £15 if you wish to use it for your new phone. This is offset with the ability to charge your ipad with a cover attached (within reason - Mine fits with a silicon case on the back and the apple folding cover) I'm only using 2 of the charging points but so far am really impressed - Top piece of equipment.
Barbara Woodhouse
East Riding of Yorkshire
Universal Charging Station for Smartphones/Tablets
19 februari 2016
Great Product
This is a very good product, its great to charge all Phones/tablets in one place & always know where they are. I had to return the first one as one of the cables was faulty, the returns process was a simple no fuss,no hassle service, which is quite something nowadays. I would recommend this product & the Company for their wonderful customer service.
6 Recensioner
|
Skriv en recension
---
I förpackningen
1 x Universal Charging Station
1 x AC Adaptor and power cord
6 x Charging Ports: Apple 30 Pin (18cm), Apple 30 Pin (5cm), Samsung (25cm), 2 x Micro USB (5cm), Female USB (5cm)
---
Mer information
Snyggt och städat - undvik rörliga kablar
Om du eller din familj har flera elektroniska enheter, har du förmodligen fått en röra av smutsiga ledningar som du måste välja mellan varje gång du vill ladda din telefon eller surfplatta. Med den universella laddstationen kan du glömma dessa problem.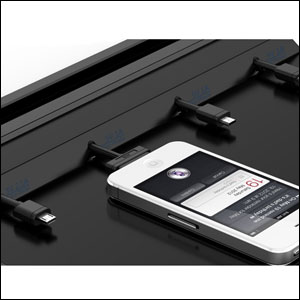 Den är utformad för att ladda 4 smartphones och surfplattor samtidigt, och med hjälp av dessa adaptrar med kablar som finns lagrade i basen av laddstationen, är den enda ledningen du behöver oroa dig för den kabel som leder från nätet till laddningen station.
Sparar vägguttag - Genom att låta dig ansluta 4 enheter åt gången
Idag när efterfråga på många väggutag är stor, särskilt i större hushåll kommer denna laddningsstation som en lösning. Spara uttag och försämring med denna universala laddningsstationen. Eftersom den bara använder ett vägguttag för laddning av 4 enheter.
Skrivbordsställ - Gör det möjligt för dig att ställa upp telefonen medan den laddas
Universal laddningsstation håller inte bara upp till 4 enheter helt laddade, den ser också bra ut. Basenheten har ett integrerat stativ som håller din surfplatta upp, så att du fortfarande kan se skärmen medan du laddar. Universal Laddningsstation är tillverkad av blankt svart plast med en glänsande metallställskena, så den passar in i de flesta decorer.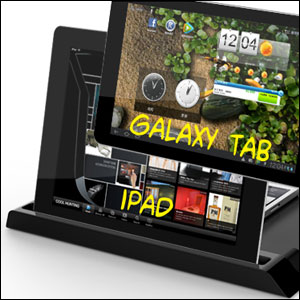 Tekniska specifikationer:
Input: 1.5A @ 5.6V
Output: 5V, 2.1A (x1 port), 5V, 1.0A (x3 ports)
Dimensions - 280 x 200 x 40mm