Griffin Survivor Case For iPhone 5S / 5 - Svart
Artikelnummer: GRIGB397322
Produktnummer: 36479
Skalet Griffin Survivor är tillverkad för att möta Storbritanniens och USAs militära specifikationer och testas självständigt under extrema förhållanden för att garantera ett utmärkt skick.
"A good case for adventure"
"Great product, superb service."
"Griffin Survivor Case for iphone 5S"
Most useful customer reviews
Dr Andrew Taylor
Saddleworth
iPhone 5s
27 maj 2015
A good case for adventure
The name says it - "Survivor". If there is a need for protection of an iPhone then something that looks like this is a good idea. Griffin stuff is always well made, and this case clearly matches up to all the claims. It is about as robust as you can get and still have all the iPhone features available, and with a tough, rotating belt clip, it ticks all the boxes. Screen tactile function is a little degraded, more so at the edges, but you soon learn to live with that. The belt clip optionally clicks closed and is frighteningly difficult to open again - but is obviously tough enough to survive the force needed - ensuring a very secure clip. The best I have come across for a demanding environment (Mountain Rescue).
Christopher Norfolk
Saltash, Cornwall
Griffin Survivor Case for iPhone 5 / 5S
21 maj 2015
Great product, superb service.
My Griffin Survivor case is an excellent product-and using the Mobile Fun website couldn't have been easier. From start to finish it was smooth, user friendly, informative, the service was prompt and the after sales care impressive. Mobile Fun exceeded my expectations. It was one of those rare things these days....an enjoyable online shopping experience.
11 augusti 2014
Griffin Survivor Case for iphone 5S
Bought this case cover for my husband, he was over the moon as he works as a stonemason in the building trade and of all the covers he said this is the best. I now have 2 sons wanting this cover also, as they too work in the trade. Guess what even got a lovely bunch of flowers to say thanks. LOL
31 Recensioner
|
Skriv en recension
---
Mer information
Tillverkad till USAs och Storbritanniens militära standards
Griffin Survivor är ett av de mest skyddande skalen till iPhone 5S / 5. Testat och certifierat för att möta eller överstiga US Department of Defence Standard 810F och UK Department of Defence Standard 00-35, är skalet designat från insidan och ut för att skydda din iPhone 5S / 5 från extrema förhållanden... smuts, sand, regn, stötar, vibration och en mängd andra miljöfaktorer.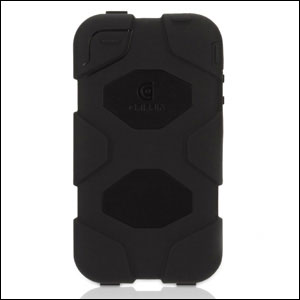 Styv inre ram som skyddar mot stötar och fall

Skalet Survivor är tillverkat av en splitterresistent polykarbonatram som är klädd i en tålig och dämpande silikon. Survivor har testats för att skydda din iPhone 5S / 5 från ett fall på en plan betongyta fårn 1.8 m höjd. Dessutom förhindrar förseglade portar att damm och sand inte kommer in och skadar dockningsanslutningen, porten till hörlurarna, pausknappen och volymkontrollen.


Kommer med en kraftig bärklämma
Griffins avtagbara och kraftiga bärklämma kan säkert fästas över skalet Survivor för att fästa din iPhone 5S / 5 till ett bälte eller axelremmen på din väska.

Integrerat skärmskydd som skyddar mot vind och regn
Ett inbyggt skärmskydd förseglar skärmen från den yttre miljön och överskrider i att skydda mot regnskador (200 mm i 1 timme).

Inre silikonbeklädnad ger extra stötdämpning


Den inre silikonlagret på skalet Griffin Survivor skyddar inte bara din telefon från påverkan utan förhindrar även skador som orsakas av vibrationer, testad vid 20 till 2000Hz i 18 timmar. Det ger ett utmärkt användande för industriella miljöer.