Most useful customer reviews
Shaun Smith
Waterlooville Hampshire
I Phone 6S
6 November 2016
An excellent product!
As quick as a mains charger, it's the third one I have purchased for other family members and they are just as impressed. Highly recommended!
Neil Dunstan
Guildford
Samsung Galaxy S4
9 oktober 2015
The simple solution to an irritating problem
Most smartphones consume a lot of power, but turn on the navigation app and it gets a whole lot worse. For a long time I couldn't work out why my phone ran down even when plugged into the USB charger in the cigarette lighter socket. (I really can't remember how I got that charger. A Bluetooth earpiece perhaps?) It turns out that the charger isn't up to the task and produces far less power than the phone was using to navigate. The Avantree high power charger completely solves that problem and even actually charges the phone while it's navigating - not quickly but it does. It's the simple solution to an irritating problem!
Phil stapleton
Preston
Abs tree high power 3.1a dual universal sub in car charger
6 juli 2015
Brilliant
Fantastic unit Does exactly what it says on the box Had a few u s b chargers but non of this quality Great product highly recommended
47 Recensioner
|
Skriv en recension
---
Mer information
Two high powered USB sockets can charge your tablet
Designed to keep your mobile devices fully charged while commuting or during long car journeys - the Avantree Dual USB Charger for iPad and other available tablets features a fast high powered 5V/ 3.1A output, which ensures that even your tablet devices have sufficient battery life.
The upper port on the charger is designed specifically for charging the iPad, while the bottom is designed for Android tablets.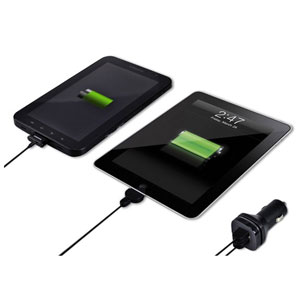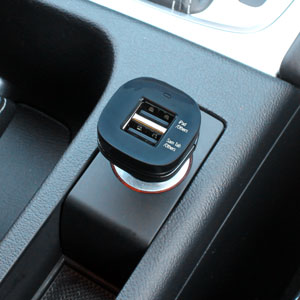 Designed to charge two devices at the same time
As well as supporting the charging of your iPad or tablet, each port can charge a smartphone or USB gadget. This means that while on the road, you can keep both your tablet and smartphone fully charged for important business meetings or simply for personal use.
3.1 Amp output for charging high power devices including iPads
When using a single port, this charger will deliver a 3.1 amp output to charge iPads and other large tablets quickly.
LED indicator shows charging status
An LED indicator on the front face of the charger will glow red to show when devices are charging and once fully charged, the LED indicator will glow green to signal that the devices are ready to be used.
Small, discreet and manufactured to a high quality
The small and discreet design means that it's easy to swap between cars and is also simple to store away.
The charger is manufactured to the highest possible quality and includes reliable over-current / over-temperature / short-circuit protection when in use.
To fully understand the benefits of fast 3.1 Amp chargers please read our in depth blog article
Technical Specifications:

Power: 15W
Input voltage: 12 to 24V DC
Output: 5V, total 3.1A
Dimensions: 63.5 x 31mm
Weight: 21.3g