Most useful customer reviews
Robert
Essex
Samsung Galaxy Core
27 juni 2017
Great product!!
Easy to use & apply. No fiddling with stick on screen protectors & air bubbles. Enough left over to apply on other screens as well.
harry jones
oswaldtwistle lancashire
samsung s7 edge
21 juni 2017
superb
exactly what it says on the box.A bit of messing to prepare,but when fitted it is quite awsome.
Yaroslav Barsoukov
Warwickshire
Samsung A5
7 April 2017
Great part
Can not feel the difference, but obviously the device became crystal clear and more durable to scratches. I am not using any case, my phone remains like new
352 Recensioner
|
Skriv en recension
---
Varför köpa?
Flytande glasskikt som kan appliceras på i stort sett alla enheter
Ger ett ultratunnt och bubbelfritt skydd
Ger ett oleofobiskt, hydrofobiskt och antibakteriellt skydd
Kan även appliceras på glasögon och solglasögon
Enkel applicering
---
Mer information



Applicera på nästan vilken enhet som helst
Crystalusion är ett revolutionerande skärmskydd som erbjuder en enkel lösning för att skydda och enkelt underhålla medieenheter, inklusive smartphones, surfplattor, mp3-spelare, laptops och GPS-system.

Det nya flytande glasskyddet är säkert, naturligt och miljövänligt. Dessutom innehåller Crystalusion Liquid den prisbelönta antibakteriella nanotekniken.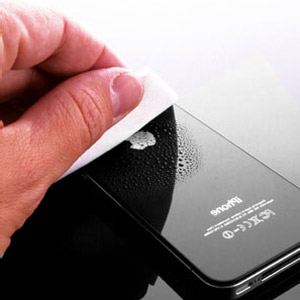 Ger ett ultratunnt och bubbelfritt skydd
Genom att använda nanoteknik ger det flytande skärmskyddet ett resistivt skikt som skyddar belagda ytor från smuts, olja, damm, nötning och bakterier i upp till 12 månader.

Istället för att använda ett fast skikt av plast är detta en vätska som du torkar på, på din enhet. Låt detta verka i några minuter och det har då skapats ett skyddande lager som är cirka 500 gånger tunnare än ett mänskligt hårstrå.
Eftersom det är en vätska kommer det inte att bildas nåpgra störande bubblor och du kan använda det på hela din enhet för ett heltäckande skydd.
Ger ett oleofobiskt, hydrofobiskt och antibakteriellt skydd
Crystalusion antibakteriell/antimikrobiell, vilket innebär att den inte stödjer utvecklingen av bakterier. När en bakteri kommer i kontakt med en behandlad yta kan den inte delas genom det joniska utbytet och dör därför.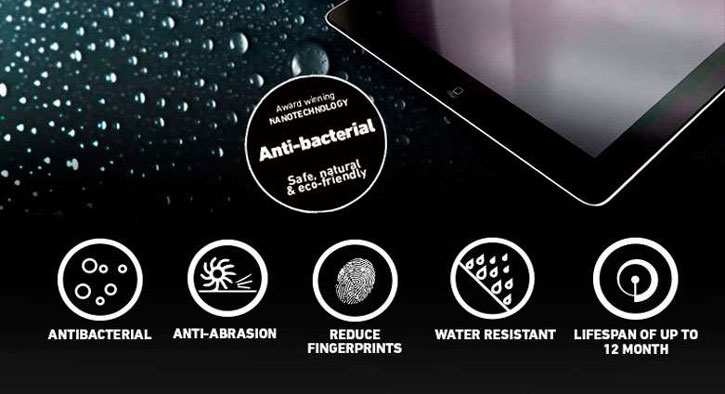 De hybrofobiska egenskaperna stöter bort smuts och olja. Fingeravtryck kan inte fästa på den belagda ytan vilket innebär att de kan tvättas bort med en minimal avtorkning, till skillnad från en obehandlad yta.
Lagret är otroligt slät och vatten kan därför inte vidhäfta på ytan. Detta är särskilt fördelaktigt när du bör glasögon i poolen.



VÄNLIGEN NOTERA: Appliceringen av Crystalusion gör INTE en produkt vattentät

Kan även appliceras på glasögon och solglasögon
De unika egenskaperna av Crystalusion är en lösning som innebär att den även effektivt kan användas på glasögon, solglasögon eller goggles för att minska på kladdiga fingeravtryck och öka vattenresistensen.





Förbehandlade dukar gör det enkelt att applicera
Du kan skydda din enhet genom att följa tre enkla steg...

Rengör
Den första påsen innehåller en förbehandlad mikrofiberduk som ska användas för att rengöra enheten tills hela ytan är fri från smuts, sot, fingeravtryck, kosmetika och oljerester.
Applicera
När din enhet är torr kan du lägga på Crystalusion Liquid Glass Protection genom att använda den förbehandlade mikrofiberduken i påse 2. Fortsätt att applicera tills duken är helt torr. Efter appliceringen bör du låta enheten vila för minst 5 minuter innan du börjar hantera din telefon.
Torka
Efter 5 minuter är enheten torr och kan hanteras med försiktighet, men vi rekommenderar att du tillåter 12 timmars torktid för att Crystalusion™ flytande glasskikt ska bildas.

VÄNLIGEN NOTERA: Den bästa prestandan uppnås efter att flera timmar har förflutit och vi rekommenderar att du behandlar din telefon före en period då enheten osannolikt kommer att hanteras. Till exempel kan en bra tid vara att applicera skyddet innan du går och lägger dig.