Most useful customer reviews
Anonymous
Hampshire
iPhone 4s
25 augusti 2014
Handy gadget.
Having used my phone a lot through the day,I find that there is not enough left in the battery to let my wife know arrival time home,but since I got the 3 in 1 no probs.Loads of power there and it's also ideal at the airport,always power in the phone.It's size is great because it just sits unobtrusively with my car keys.
Simon
Leicester
Iphone 4S
14 mars 2014
Nice
Small but very effective, will charge my iPhone enough to make an emergency call if needed. Fits nicely with my keys. Memory stick is a great feature too
27 januari 2014
Extremely useful
This is a very useful piece of kit and now lives permanently in my pocket. It gives my iPhone 4 a charge of over 50% from flat - perfect for those little emergencies when you find yourself caught with no power. It's also a 16GB USB stick which I use frequently for transferring files. Build quality is good. I was worried that it would get wrecked fairly quickly, but despite carrying it around for a couple of weeks with coins, keys, etc, there is not a scratch on it. Highly recommended.
13 Recensioner
|
Skriv en recension
---
Mer information
Portable and innovative design
The Juiceful 3-in-1 Key Chain for Apple 30-pin devices has been designed with portability in mind, so it's very light and compact. It has an innovative 3-in-1 design that incorporates an emergency battery, flash drive and data cable making this a must have item for Apple 30-pin device owners.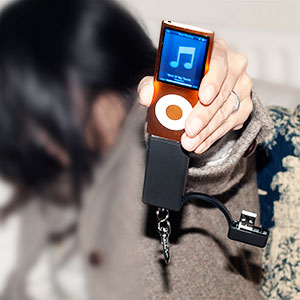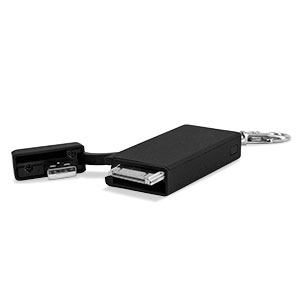 Integrated 1000mAh emergency battery with an Apple 30-pin connector
With the Juiceful's integrated 1000mAh emergency battery you'll never worry about having a flat battery again. Simply plug the 30-pin connector into your device and hold down the multifunction button on the Juiceful to initiate charging. The 1000mAh capacity is enough to restore over two thirds of an iPhone 4's battery.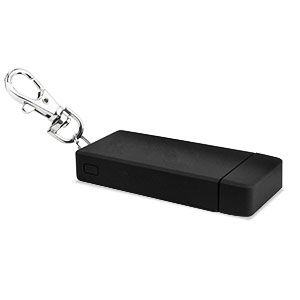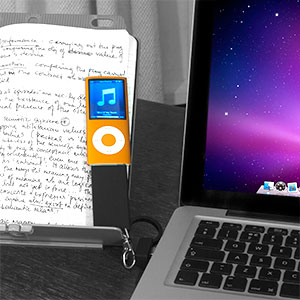 Integrated 16GB USB flash drive
The Juiceful 3-in-1 Key Chain also has an integrated 16GB USB flash drive, so you can take your files, music and films anywhere you go. Just plug it into a USB drive and tap the multifunction button to activate the flash drive.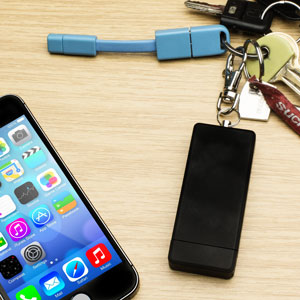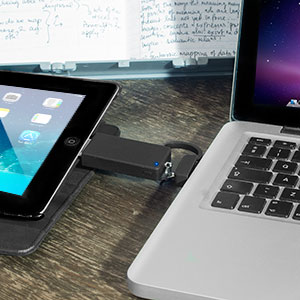 Integrated Apple 30-pin to USB data cable
With the Juiceful's integrated data cable you can sync and charge your 30-pin device wherever you are.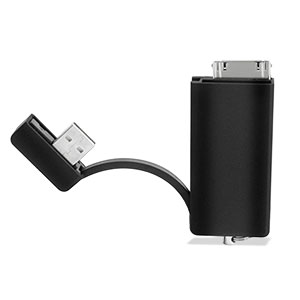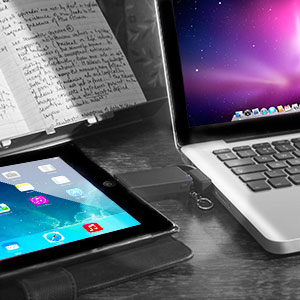 Multifunction button for easy use
The Juiceful 3-in-1 Key Chain has one multifunction button that is used to switch between, activate and cancel the different modes, making the Juiceful incredibly easy to operate.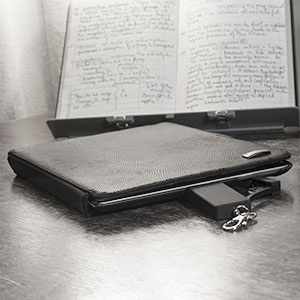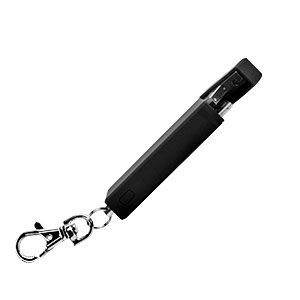 Technical Specifications
Battery: 1000mAh Li-polymer
Input: 5V 500mA
Output: 5V 500mA
Charging time: 1.6 hours
Recharge cycles: 500 times
Flash memory: 16GB