Most useful customer reviews
23 November 2014
Perfect Headphones
These are really good and some of the features I am just discovering are excellent too. Wewll worth the money - really pleased
2 Recensioner
|
Skriv en recension
---
Mer information
Stylish, modern design suits any attire
The SuperTooth Freedom Stereo Bluetooth Headphones has been designed with style in mind, delivering high quality headphones that look great with any outfit. The design includes playback functions allowing you to play/pause, flick through your favourite tracks as well as adjusting the volume.
High quality audio sounds great whether listening to music or making calls
As well as looking great, these headphones deliver rich bass when listening to music and crystal clear sound when having phone conversations, the built-in omnidirectional microphone allows you to be heard loud and clear at all times and at all angles, giving you the freedom to talk no matter where you are or what your doing. The headphones have a frequency response of 2,4 GHz and an impressive operating range of up to 10 meters.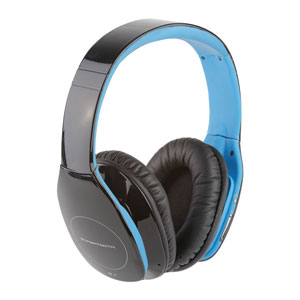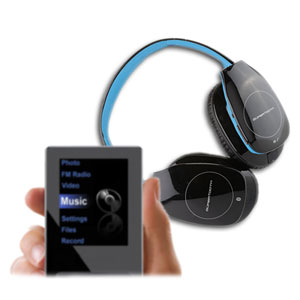 Allows you to make or answer calls, even when listening to music
The SuperTooth Freedom comes equipped with two speakers and an omni-directional microphone allowing users to stream phone calls via Bluetooth. Even if you are listening to music on your phone, you can still make and receive calls, all hands-free!
Built-in rechargeable battery that allows for up to 15 hours of talk/music time
The built-in recharegable Lithium-Ion battery allows for up to 15 hours of talk and music time from just one charge, the SuperTooth Freedom Headphones also have a staggering 1,000 hours of standby time, so you wont be rushing to charge these fantastic headphones everytime you need to use them. The headphones can be charged through a computer/laptop or via a USB mains adapter with the supplied Micro USB to USB cable, charging time takes approximately 3 hours.
NFC Touch and Play
The SuperTooth Freedom stereo headphones are compatible with all Bluetooth A2DP-enabled devices and support NFC. This new technology offers an easy pairing experience, allowing users to simply touch the SuperTooth Freedom against their NFC-enabled phone in order for the devices to recognize each other.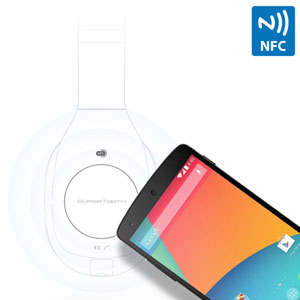 Ergonomic design and user-friendly controls
With two rotative pads and an adjustable headband, the SuperTooth FREEDOM will fit comfortably on your head. This foldable, adjustable design makes it ultra compact. Once stored in its pouch, you can carry it easily. All of the controls – play / pause / stop / previous track / next track – can be controlled directly on the headset itself for the ultimate in hands-free convenience.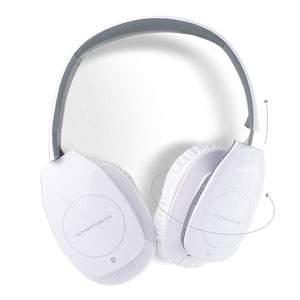 Please Note: The above pictures of the white varient are for display purposes only. The headphones you will recieve will be the Black / Blue model.
Compatible with all Bluetooth enabled phones, tablets and laptops
As it utilises Bluetooth 4.0, it is compatible with all Bluetooth enabled devices. Easy to pair, you can beam music from your Bluetooth-enabled mobile phone, tablet and even computer / laptop from up to 10 metres away.
Technical specifications:
Bluetooth: v4.0
Charge time: 3 hours
Play time: up to 15 hours
Talk time: up to 15 hours
Standby time: 1,000 hours
Frequency Response: 2,4 GHz
Operating Range: up to 10 m
Dimensions: 160mm (H), 187mm (W), 71mm (D)
Weight: 200g