Spigen SGP Ultra Hybrid for iPhone 5S / 5 - Metal Slate
Artikelnummer: 041CS20248
Produktnummer: 47028
Protect your iPhone 5S / 5 with this unique metal slate bumper with air cushioned corners from Spigen SGP.
"Perfect"
"Perfect"
"Looks Great"
Även tillgänglig:
Most useful customer reviews
30 December 2016
Perfect
My nephew was well chuffed with this purchase for his Xmas pressie
Maureen Galloway
Scotland
Apple iPhone 5
27 maj 2016
Perfect
This case fits exactly on my phone giving the needed protection but not taking away the beauty of the phone. Thank you. It also does not add bulk meaning it can fit perfectly inside my purse. Wonderful!
Maureen Galloway
Scotland
Apple iPhone 5
13 maj 2016
Looks Great
Thank you for a very innovative case that looks good as well as giving the necessary protection. All this without losing any of the phones good looks. Actually I found that once this protector was on the buttons were far easier to use ie the on/off switch, volumn +/- etc. Top marks thank you for helping me make such an excellent choice!
26 Recensioner
|
Skriv en recension
---
Mer information
Bumper style allows you to see iPhone 5S / 5's good looks
The bumper style of this iPhone 5S / 5 case means that you are still able to see the majority of your gorgeous Apple iPhone at all times.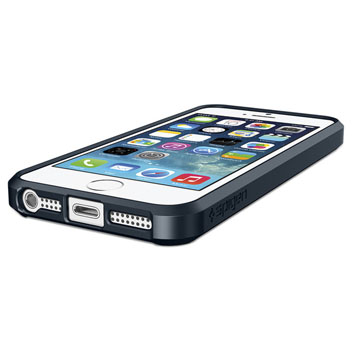 Advanced Shock Absorption Technology: Air Cushioned 4 corners
The Ultra Hybrid case for the iPhone 5S / 5 offers the ultimate advanced shock absorption technology with its 4 air cushioned corners the protect your iPhone 5S / 5 even more.
Keeps your phone slim and light
Thanks to the bumper design, your phone won't have added bulk all the way around, helping to keep your iPhone 5S / 5 as slim and light as it was designed to be.
Easily access all ports, controls & connectors
The case also features cut-outs for the ports and features of the iPhone 5S / 5 such as the dock connector and camera. It has raised areas for the volume and home keys to make them easy to press whilst encased.