StandFast Folding Universal Smartphone Stand - Stativ
Produktnummer: 51687
Ett perfekt fällbart stativ i fickformat för din smartphone. Nu kan du gå överallt och du kan ha din smartphone placerad i vilken vinkel du vill, precis där du behöver det. Standfast är alltid redo på några sekunder!
"Perfect for Samsung Galaxy S7 Edge"
"Brilliant!"
Most useful customer reviews
10 januari 2017
Perfect for Samsung Galaxy S7 Edge
This neat little gadget arrived today ... just perfect !
Michael mckie
Farnborough
Stand fast folding universal smartphone stand
23 oktober 2015
Brilliant!
Just got this, delivery excellent, several days earlier than expected. Item itself is great. Placed it onto a frog pad on the dashboard and my iPhone is virtually immovable whilst driving, yet easily removed or adjusted when necessary. Stand removes completely so no visible signs of a mobile anywhere in the car. Terrific design, and excellent value for money. Only possible improvement would be an integral frog pad on the base, but as I have several already this was not a problem for me.
88 Recensioner
|
Skriv en recension
---
Mer information
Ultralätt fällbart stativ i fickformat
Detta lätta och fällbara stativ är perfekt för att hålla smartphones var du än är. Den består av tre cirkulära komponenter med ledade fästen, så att du kan få perfekt passform och vinkel för din enhet. Detta kommer att stödja din smartphone i både liggande och stående format så att du kan variera mellan aktiviteter. Eftersom stativet fälls ner platt i en skiva 60mm diameter är den extremt portabel och kan placeras i fickan, handväskan eller väskan för bekvämlighet. Var du än går, går din smartphone.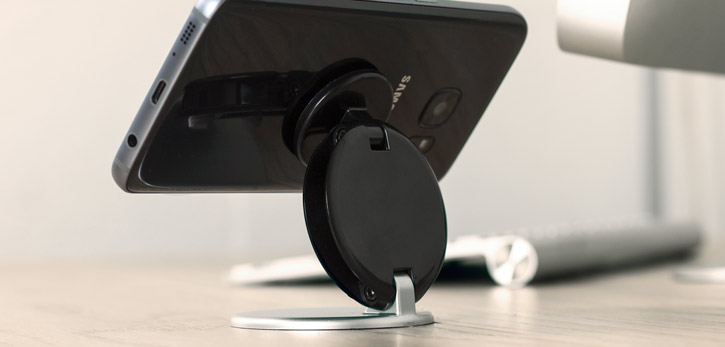 Snabb vikningsoperation för en snabb monter
Med en innovativ vikbar design kan Standfast kan enkelt förvandlas från en platta i bärbar form till en praktisk smartphone monter på några sekunder. Att fälla ut den är enkelt - bara att dra sugskivan tills du har önskad vinkel, sedan fäster du den på baksidan av din enhet. Allt du behöver göra då är att anpassa den för att passa dig.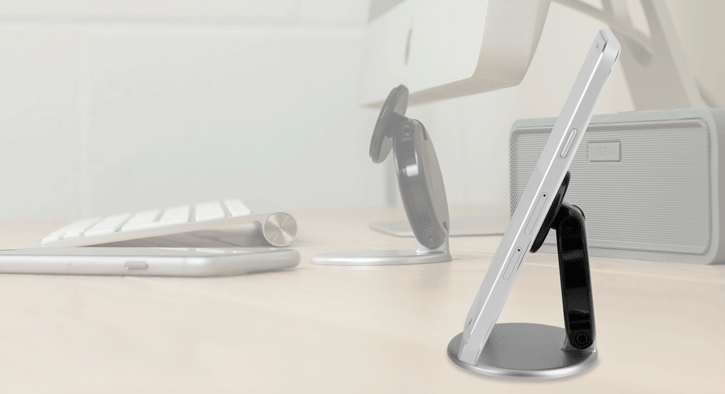 Den bärbara designen är perfekt för pendling, så att du snabbt stuva undan när det behövs och enkelt ställa in när du är klar. Men även om du inte är på resande fot är detta stativ perfekt för att titta på videor. StandFast är även hållbar med dess robusta och orubbliga design.


Lysande för att titta på media
Standfast Universal Smartphone Stand är perfekt för att titta på film, läsa e-böcker, följa recept, surfa på nätet, göra presentationer, tittar på bilder eller något annat du kan tänka dig. Efter en enkel justering, kan du ändra vinkeln på hur din smartphone hålls så det är mer bekvämt att skriva. Detta gör den perfekt för att använda hemma, på kontoret eller i kollektivtrafiken. Det är ett utmärkt funktionellt tillbehör som är prisvärt och bra valuta för pengarna.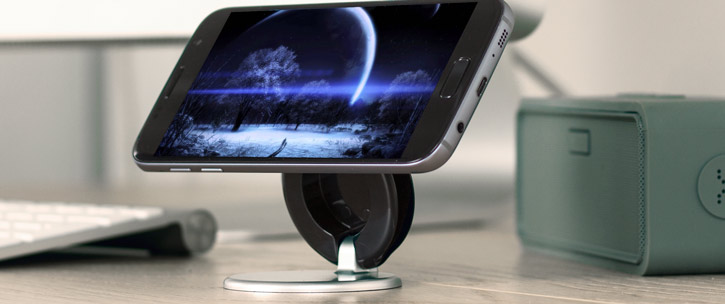 Helt skal kompatibel
Med Standfast Universal Stand behöver du inte ta bort enheten ur ditt fodral för att använda denna fantastiskta monter, oavsett hur stor eller skrymmande det är! Det kommer att fungera lika bra i sitt fodral, vilket sparar värdefull tid och du behöver inte kompromissa om skydd.