Most useful customer reviews
Bill Davies
Torquay
DiCAPac Action Universal Waterproof Case for Smartphones
12 maj 2017
Completely effective 1st time out
Suffered an unexpected capsize in a kayak at sea, 1st time out with my Samsung Note 3 in this case. Happily, although submerged at least half a metre for about half an hour, not a drop of water got in and the phone remained fully usable throughout. My previously trusted water proof VHF radio did not fare so well, leaked and became unusable within 5 minutes. Just shows that having the right back up kit could make the difference between life & death!
Andy Stobbie
Stockport
LG G4
17 mars 2016
Great waterproof and snow proof case
Easy to fit phone in case, with my LG G4 have to take it out of its protective (Mobile Fun) cover as its a snug fit, but slides in easily. Snap the seal closed, roll the Velcro down and you are away. Used it when snowmobiling great protection and touchscreen works through the plastic. Like the neck strap that has 2 lengths depending if it's single or double. Clips to the DiCAPac waterproof selfie stick for complete waterproof unit- note it has to be this model of case as the blue and green versions don't have the right fitting on the back.
Malcolm
Manchester
Note 3
26 juni 2015
Perfect rowing case
Bought this so I could use my Note 3 as a boat coach when rowing. It fits the Note 3 perfectly even with a case still on the phone. As I haven't rolled in I cannot say how good this case will be when under the boat, but it copes very well with the spray from the bungies when training, and is nice and clear. The only tiny distraction, is that the sip lock can be a bit tricky to undo, however that also means it provides a nice tight seal :)
18 Recensioner
|
Skriv en recension
---
Mer information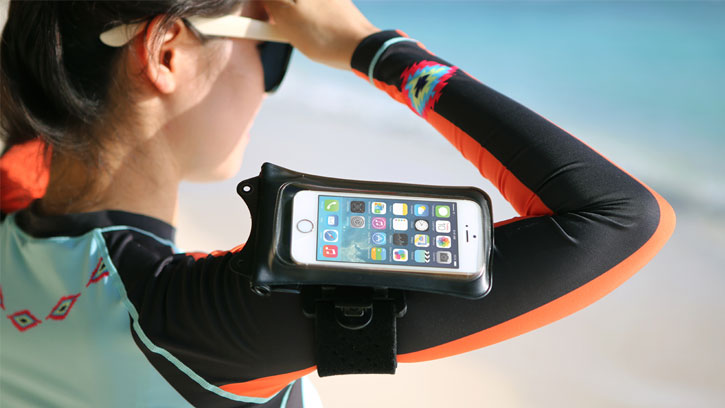 100% vattentätt fodral för smartphones upp till 14.4 cm


När du simmar, surfar, paddlar kajak, fiskar, snorklar, åker skidor och utför andra utomhusaktiviteter vill du dela med dig av dina ögonblick genom att ta en bild eller spela in ett videoklipp. När du bär DiCAPac till din smartphone kan du göra just det samtidigt som du skyddar din telefon och har tillgång till huvudfunktionerna.

Tillverkat av giftfria material tillåter fodralet DiCAPac 100% Universal Waterproof dig att ta med din telefon i annars ogästvänliga miljöer samtidigt som det ger kontroll över pekskärmen.
Flyter i vattnet


Fodralet kan flyta i vattnet så att du enkelt kan hämta det om du skulle tappa greppet om fodralet.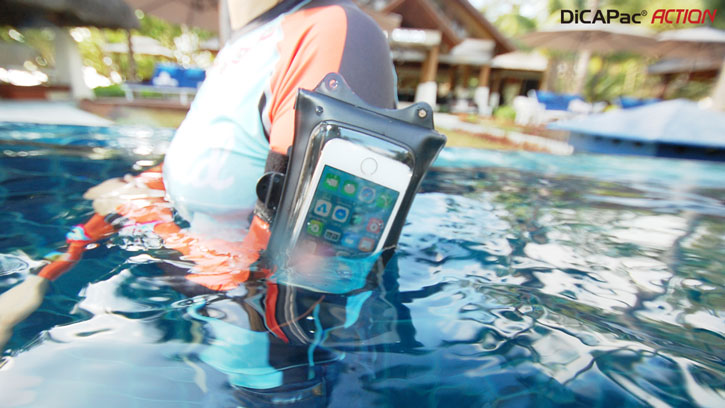 Action Clip som tillåter att fästa fodralet till ett bälte, väska eller kläder
Fodralet har en fjäderbelastad klämma som fäster fodralet till det som passar dig. Som remmar, en väska, kläder eller ett axelband.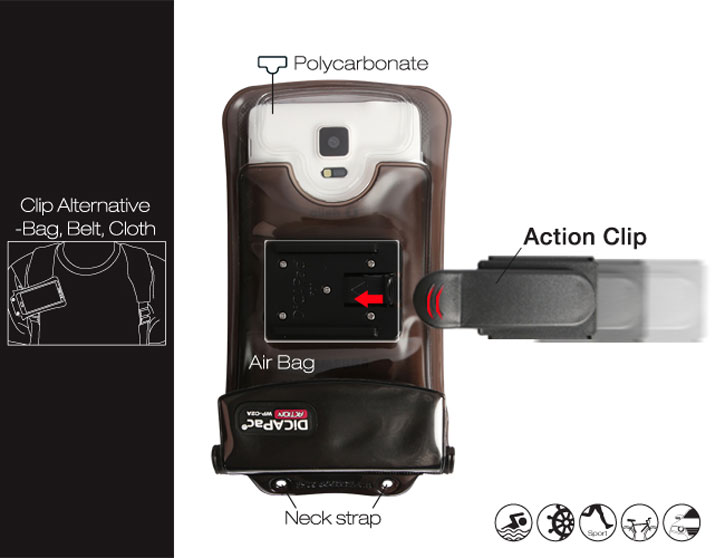 Högsta klass JIS IPX8 vattentät ranking


Alla produkter från DiCAPac har klarat Japans hårda test JIS IPX8 och är alla vattentät-certifierade på högsta möjliga grad (grad 8).

Fodralet är testat och klarat upp till 10 meters undervattenslabbprov och verkliga livsförhållanden. Det innebär att du kan vara säker på att din smartphone i fodralet DiCAPac kan tas med under vattnet i upp till 10 meters djup under långa perioder och fånga dessa dyrbara stunder.
Inte bara skydd mot vatten


Fodralet DiCAPac 100% Universal Waterproof skyddar inte bara din telefon från vattenskador utan erbjuder även ett skydd mot damm, sand och även snö. Du kan ta med din telefon till stranden, utomhus i regnet eller ut i snön och samtidigt vara försäkrad om att din telefon är skyddad från väder och vind.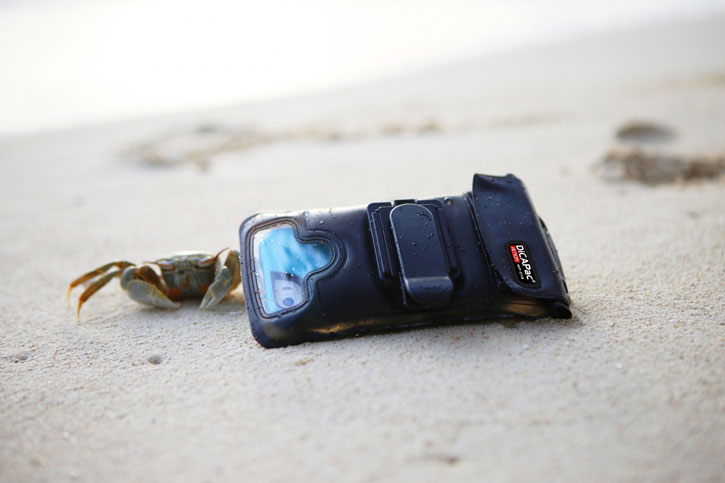 Klara bilder och sikt på din smartphones skärm


Designad för att erbjuda full funktionalitet av din smartphone och har en klar polykarbonatyta som är tillverkad för att erbjuda ett oslagbart skydd till skärmen på din smartphone utan att försämra skärmens ljusstyrka och klarhet.

Inte bara det, utan dina bilder och videos kommer att förbli skarpa och klara eftersom de tas genom en specialdesignad del av fodralet.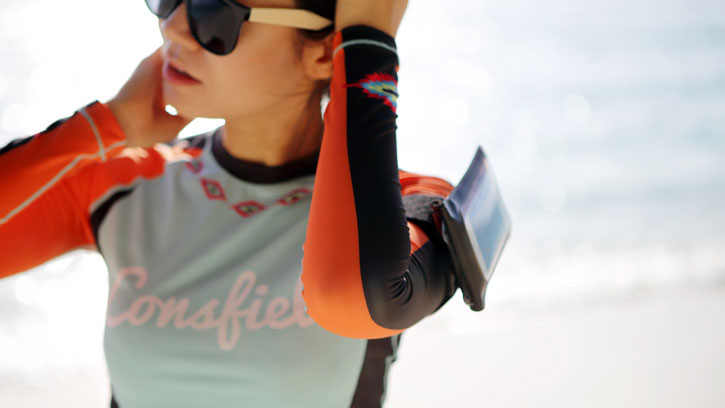 Stödjer användning av pekskärmen när din smartphone är i fodralet


Samtidigt som det erbjuder ett skydd och synlighet av din enhet ger fodral full funktionalitet av pekskärmen när din telefon är i fodralet. Det är perfekt när du vill skriva sms, surfa på internet, kolla email och ta bilder och spela in videos. Allt samtidigt som din telefon är fullt skyddad från vatten och andra element.
Please note: Arm band is shown for demonstration purposes and is not included as part of this product.
Specifications: