Speck CandyShell iPhone 6S / 6 Skal - Klar
Artikelnummer: 73684-5085
Produktnummer: 55391
Det genomskinliga skalet CandyShell från Speck är tillverkat för iPhone 6S / 6 har gjorts enligt militära standarder. Konstruerat med skyddande akryl och polykarbonat har det skapat ett riktigt elegant skydd.
"A brilliant case"
"Just What I Wanted"
"Excellent protection for iPhone 6S"
Most useful customer reviews
Glenn
Worcester
Phone case
19 januari 2017
A brilliant case
Having previously owned similar, cheaper cases, I was interested in what made this case worth the money. That was simple, great quality material and a perfect fit. There is plenty of impact protection all around the phone which, although not tested, I feel sure will prevent any severe damage. All buttons, plugs and features remain easy to use. Not cheap but well worth the outlay! I have purchased from 'mobilefun' on many occasions, they always keep me informed, deliver quickly and have very competitive pricing. Don't hesitate, get yours today, it's a lot cheaper than a new phone, and looks cool too.
LINDA NAPPER
Leicestershire
iPhone
20 juni 2016
Just What I Wanted
I wanted a cover that would protect my phone but not be too chunky and this fits the bill well. Easy to fit and, as it's clear, the colour of the phone shows through. All ports and buttons are easily accessed. It looks smart, feels like a good quality item in the hand and that it will protect the phone for a long time. Price was cheapest from MobileFun and packing and postage very reasonable.
Graham
Southampton
iPhone 6S
2 maj 2016
Excellent protection for iPhone 6S
This does exactly as it says, it's clear so you can see whatever colour phone you have bought. It protects the phone very well too. The case has a nice quality feel to it and is grippy to hold. It adds very little depth to the naked phone, but does add a few millimetres either side, but hey,thats how it does what I bought it for ......protection from drops and bumps. The cover is raised slightly for some screen protection but I feel you also need a screen protector too. The covers over the buttons on the side of the phone work well, the only slight issue I can see is for those with fatter fingers or no nails, the mute/lock switch on the top left hand side of the phone is quite difficult to get to as it is set into the extra width of the case. Very happy with the case though and the protection it gives the phone.
15 Recensioner
|
Skriv en recension
---
Mer information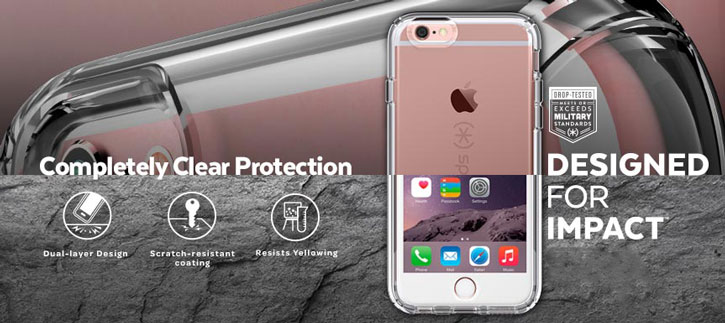 Två förstärkta lager av skydd för din iPhone 6S / 6
Det prisbelönta Speck Candy för iPhone 6S / 6 kombinerar både bra utseende med fantastiskt skydd.
Det eleganta, hårda skalet uppfyller den krävande militära MIL-STD-810G standarden och skyddar mot droppar, repor och mindre stötar samtidigt som skalet glider lätt in och ut ur fickorna.
Medans det gummiklädda innerfodret förlängs till en ram som skyddar skärmen om du skulle tappa telefonen med skärmen nedåt och ger en halkfri stabilitet när du placerar telefonen med skärmen nedåt.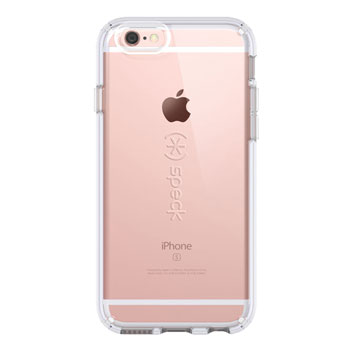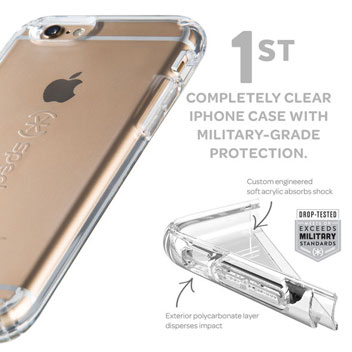 Ger allround skydd för din enhet

Utformad för att skydda varje aspekt av din S6, därför har Candy Grip en upphöjd ram för att skydda skärmen och förser även knapparna med ett gummi täcke för att ge dem även ett extra skydd. Skalet är också stötabsorberande och erbjuder därför maximalt skydd för iPhone 6S / 6.


Gulnar inte

!
Det genomskinliga Speck skalet till din iPhone 6S / 6 har en fantastiska design och har utformats med en speciell next generations beläggning för en forsatt kristallklart yta som inte gulnar lika snabbt över tiden. Med Candy skalet från Speck ser telefonen lika bra ut som den dagen du köpte!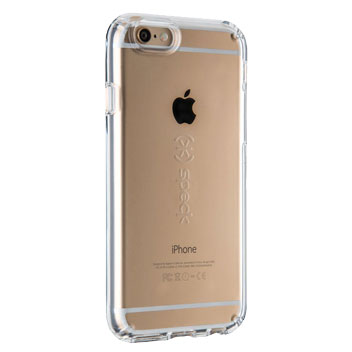 Designad för iPhone 6S / 6
Candyshell har utformats speciellt för iPhone 6S / 6, vilket betyder att den har alla cut-outs för de olika portar och funktioner i iPhone 6S / 6 såsom den bakre kameran och laddningsporten
.