Verus Hybrid Grab Universell Bilhållare - Guld / Svart
Artikelnummer: 904200
Produktnummer: 56004
Placera din telefon eller en annan enhet på bilens vidruta eller på bilens instrumentpanel med hjälp av den eleganta Verus Hybrid Grab Bilhållare. Universell och med säker passform är denna bilållaren en komplett lösning för din bil.
"Works"
"Very nice"
"Solid as rock"
Most useful customer reviews
James Davis
Blackpool
Xiaomi mi mix
28 April 2017
Works
From the moment you open the box I realised this was something a little better than you're average phone holder. Too many times I have gone for cheaper options only to be disappointed. There was no assembling involved I just followed the instructions. Peeled of protective cover and push into surface of you're choice for 5 seconds. I chose the screen, as soon as I let go it felt like it would not be falling of anytime soon. Used it for a couple of weeks now without any issues. The phone I use is tall, wide and very heavy. It grabs the phone tightly and makes no rattles. Easy to remove the phone with 1 hand recommended.
29 September 2016
Very nice
I cannot say much other then it's very nice for now but with stuff like this only time will tell.
Christopher Christoforou
Tonbridge
Samsung Galaxy Note 4
25 augusti 2016
Solid as rock
When it arrived, I thought, "blimey look at the size of that". However, once installed, it matches the colour of my interior and sticks to the windscreen like a limpet. The fitting is strong and can be turned without worrying the whole thing will drop off. Easy to fit the phone, and can also be used for my old, thick Garmon sat nav. More suprising, once fitted it takes up much less of the view than my old one.
71 Recensioner
|
Skriv en recension
---
Mer information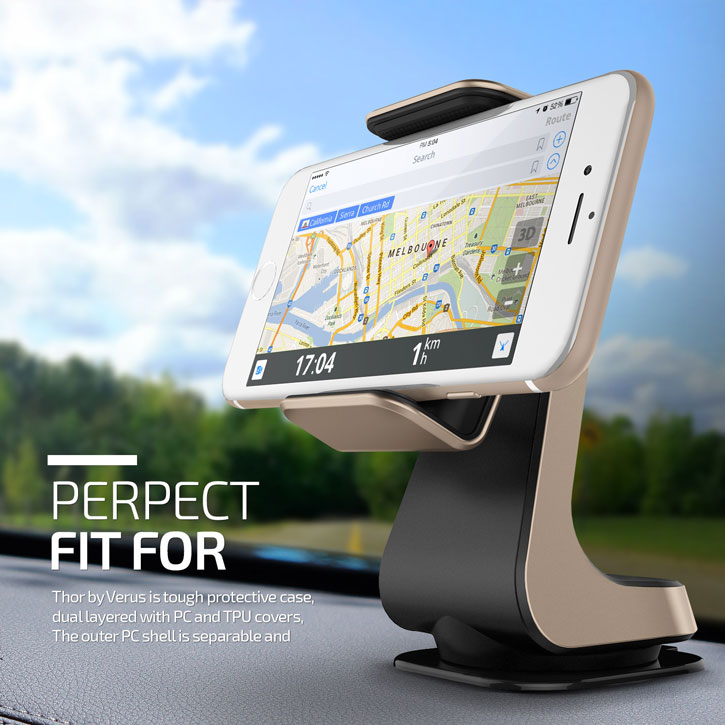 Snygg Design
Med en smidig och snygg desig som sällan ses i produkter av detta slag så kan du vara säker på att du får en bilhållare som ses i lyxbilar. Med en metallsilvrig finsh som kompletteras med ett snyggt svart lädermaterial hör denna bilhållare hemma i den moderna bilen.
Lätt att montera
Den sömlösa designen ethos innebär att monteringen inte kunda vara lättare eller mer funktionell. Placera bara Hybrid Grab där du vill ha den och lås fast den sen är det bara att fästa din telefon i hållaren. Greppet ät starkt och säkert. Du kan inte önska något mer av en bilhållare.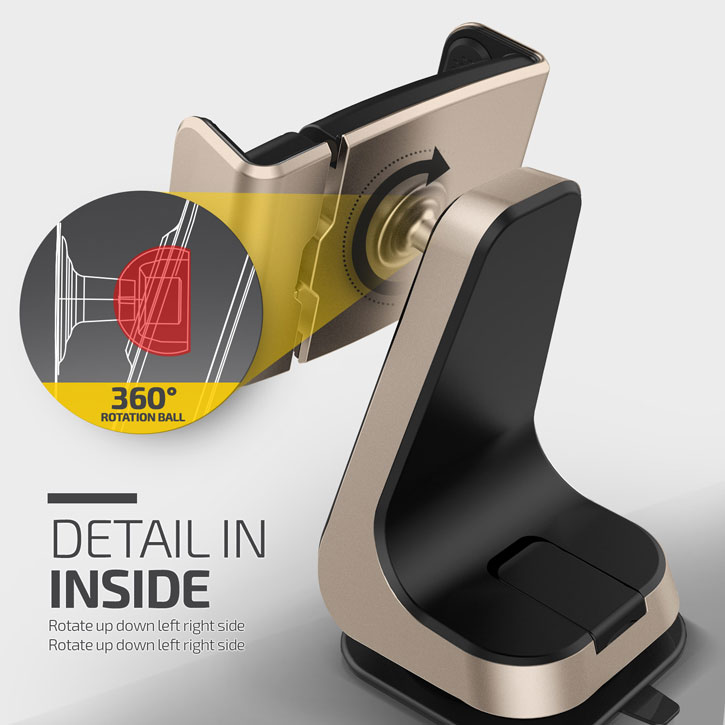 Monteras på vinrutan eller på instrumentbrädan - valet är ditt!
Bilhållaren greppar enkelt din telefon oavsett om du väljer att motera den på vindrutan eller på intrumentbrädan. Hybrid Grab har en självhäftande platta för att fixera fästet ordentligt där du väljer att fäsa den. Fästet kan diskret och enkelt placeras på grund dess små och lätta proportioner. Den är idealisk för att använda din smartphone som GPS eller om du vill se inkommande samtal och meddelanden.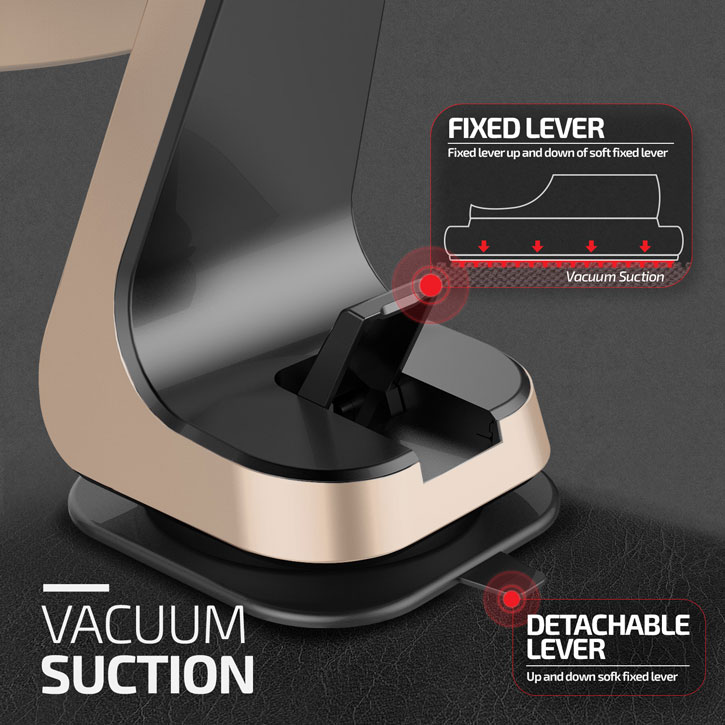 Placera telefonen i valfri vinkel
Hållaren har en speciell rotationskulled så att du kan placera din enhet i den vinkel du känner är bekväm och lämplig. Du kan inte bara vrida din enhet i 360 grader utan du kan också luta den i den riktining du väljer. Detta erbjuder dig den rörelsefrihet du önskar.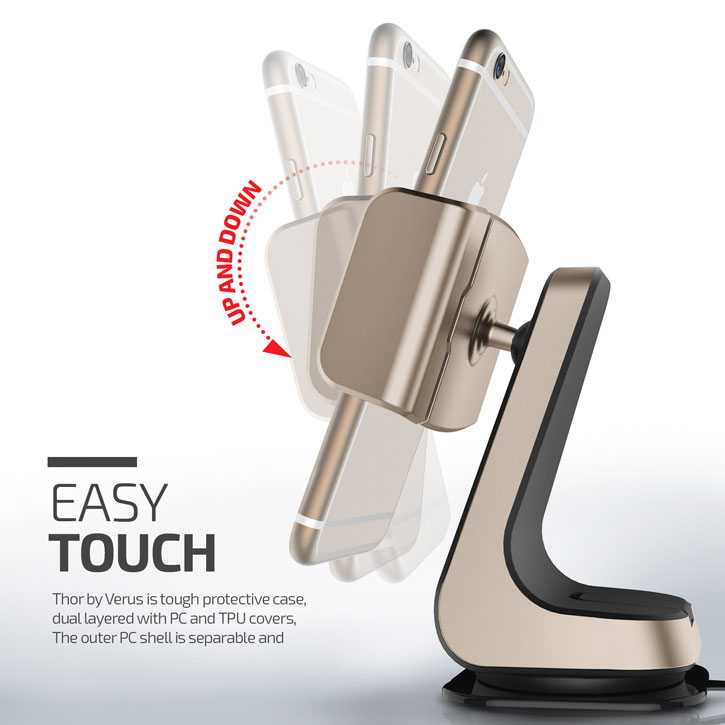 Kompatibel med enheter upp till 105 mm i bredd
Armarna sträcker sig får ett minimum på 63 mm till högst 105 mm vilket är tillräckligt för de allra sörsta av smartphones. De skapar ett bra grepp som passar de flesta moderna enheter både med eller utan skal så att du slipper ta bort skalet när du ska använda din bilhållare. Med en enkel tillgång till laddningsuttaget eller hörlursuttaget vid alla tidpunkter.

Mjuka kuddar skyddar din telefon när du fäster och tar bort din telefon och även när den sitter i bilhållaren.