Most useful customer reviews
Paul White
Surrey
OnePlus 5
22 juli 2017
Handy by the side of the bed
I have one of these by the side of my bed to charge my phone overnight. I find the plug a little stiff to attach the phone but not enough to moan about
9 juni 2017
Highly recommended
Highly recommended
DArren Monks
Aylesbury
Blackberry KeyOne
24 maj 2017
looks good and performs well.
This is a good looking and sturdy dock which my phone fitsin and out of easily and supports the phone well.
28 Recensioner
|
Skriv en recension
---
Mer information
Ladda och synkronisera enheten


Genom att kombinera innovativ teknik, tillåter denna laddningsdocken dig att ansluta din smartphone till docken via en USB-anslutning. Detta innebär att du kan samtidigt använda dator porten för att ladda telefonen och synkronisera data på en och samma gång. Detta innebär att du kan vara säker på att telefonen är fulladdad samtidigt som du snabbt och enkelt kan säkerhetskopiera viktig data från telefonen till din dator eller laptop.

Du kan även koppla in en USB-laddare, om du inte har en dator och USB-port i närheten.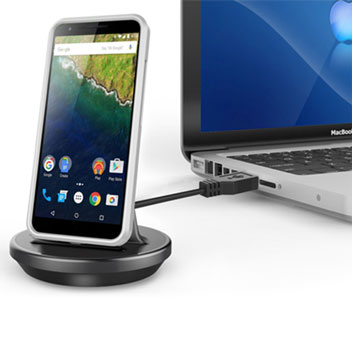 Justerbar USB-C-kontakt


Denna docka har en justerbar USB-C (USB typ C) kontakt som du enkelt kan skiftas från framsidan till baksidan, så att den passar din telefon perfekt.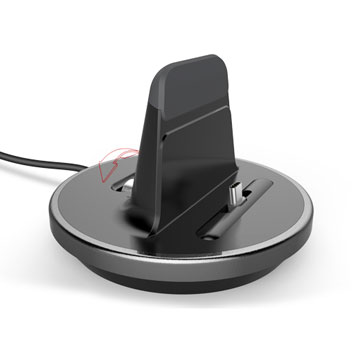 Fungerar med eller utan skal


KiDiGi Desktop Charging Dock står smartphonen på en bekväm betraktningsvinkel. Den har en unik tilt anslutning som även har tillräckligt mycket med utrymme så att du kan använda telefonen med skalet på, detta innebär att du inte behöver ständigt ta bort ditt skal från telefonen varje gång du vill använda laddningsstationen.
Stabil och säker montering


Docken innehåller gummifötter som hjälper till att ge en stabil och säker bas, dvs. fri från rörlighet. Det kommer även se till att ditt skrivbord ser snyggare och renare ute tack vare sin stil renadesign.
Tekniska specifikationer:
Input : 5.0V / 2.0A (Maximum)