Most useful customer reviews
Liam Rushton
England
Lg g3 d855
9 April 2016
Yeah.. It's good.. But
Really difficult to attach to device so I ended up wasting one screen. But second screen went on fine. And the material that is used feels like it will protect device for a long time. But when you buy don't expect two cause you will prob ruin first but still should last a life time.
4 Recensioner
|
Skriv en recension
---
Mer information
Why TPU?
TPU is chemically-enhanced plastic whose properties include scratch-resistance, elasticity, oil and grease resistance, and conveniently enough - increased toughness. Since the material is elastic, it has some "self-healing" abilities. This means that its slight softness gives it the power to absorb non-extreme impact, such as most drops and lighter scratches, while retaining all or most of its original shape. Therefore scratches will disappear (depending on severity) in short order.
TPU is, in essence, a wonder of the modern industrial world, with applications including anything from toys to advanced aerospace. This is a very credible choice for screen protection then and in our opinion, sits in between PET (regular screen protectors) and tempered glass screen protectors.
Being TPU, this screen protector will also be far easier to clean, will resist more foreign substances and abrasion and notably feel more pleasant to touch.
Prevents screen scratching and other damage
The Olixar range of screen protectors are designed to keep your Galaxy S6 Edge's screen clear from scratches and scrapes that could hamper your visibility. By creating a tough barrier between your screen and the world, any damage will be done to the screen protector and not the phone, keeping your device looking good as new.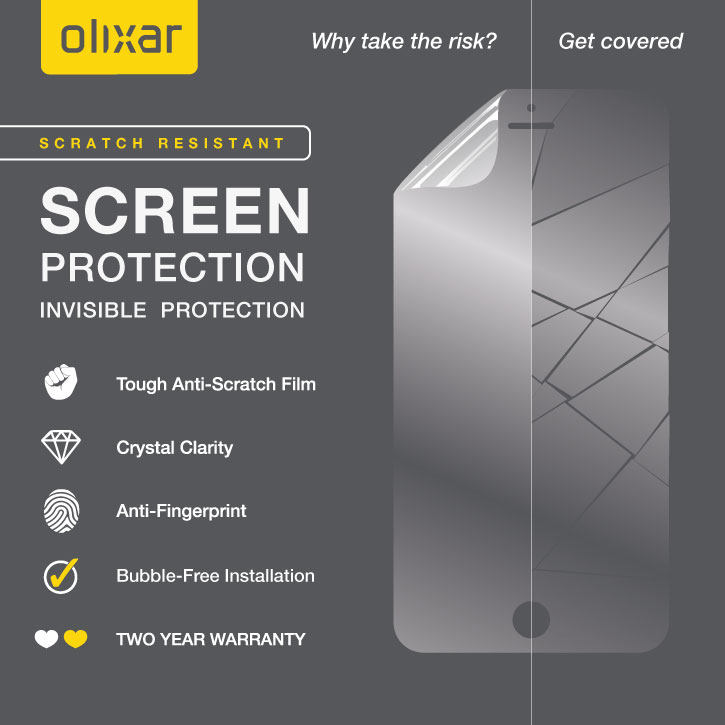 Easy to apply
Olixar screen protectors are easy to apply, as they are custom cut for each device. Simply clean the screen with the included microfibre cloth, line up the screen protector with your Rainbow and use the application card to smooth out any bubbles. Once on, the screen protector is practically invisible.
Crystal clarity provides invisible protection
While it's important to protect your screen, it's also vital that the screen protector does not hinder your smartphone use by clouding the screen or decreasing the sensitivity of the touchscreen. Olixar screen protectors are specially made to provide optimal clarity, while also being thin enough to keep your touchscreen in perfect working order. Once on, you won't even notice the Olixar screen protector is there.
Comes with 2 screen protectors for 2 times the protection
Olixar screen protectors now come in packs of 2, so you've got 2 times the protection for your Galaxy S6 Edge. You'll never have to buy another screen protector for the life of your phone with the Olixar 2-in-1 screen protector pack.