Spigen Rugged Armor Samsung Galaxy S7 Hårt Skal - Svart
Artikelnummer: 555CS20007
Produktnummer: 57251
Möt det nydesignade skyddsskalet från Spigen. Tillverkad av flexibelt, robust TPU och med en mekanisk konstruktion, samt en kolfiber textur, håller Rugged Armor skalet i svart din för Samsung Galaxy S7 säker och smal.
"Perfect! "
"Perfect 10...all round protection, balancing looks and durability."
"nice case but really wanted a softer grippier base"
Most useful customer reviews
21 juli 2016
Perfect!
Perfect is The Word. Love it, it also gives space for the full screen covering "temperd glass" protection.
Ahmad Pasha
Lahore, Pakistan
Galaxy S7
26 mars 2016
Perfect 10...all round protection, balancing looks and durability.
Spigen is more known for expensive 'multilayer' cases. This is the 'dark horse' for the S7 range. Much like a phone, a case also needs to maintain its condition after drops, something the more expensive dual layer cases fail to do so. This case….manages all. Single piece TPU design, with a quality matte finish. The faux carbon accent is shinier now and looks beautiful, though some may find it tacky. Shiny plastic accents complement the glam. Wraparound protection with corner pockets give some 'crumple zone' relief. Raised lip covers the bezel with good depth. Camera area ingress is good. Tactile feel of buttons remains excellent. Slim profile of phone is preserved. Any extra dimension is fair compromise for the protection it offers. Two caveats: (1) The front lip ingresses towards the screen and will push away any edge to edge screen / skin protector. This case will work best with case 'friendly' protectors. (2) Spigen logo on the inside of the back now features a larger 'coat of arms'. This may land scratches on the back glass over time. For peace of mind, just cover with some scotch tape. Go for it. For this price, you won't regret it.
josh
wakefield west yorkshire
samsung galaxy s7
30 juli 2016
nice case but really wanted a softer grippier base
After checking reviews about Mobilefun I decided to order this phone case. I was looking for a case which would grip to most surfaces and not slip around when I put it down , basically soft rubber on the back , unfortunately it isn't but its not bad and is a quality case which is really stylish and rugged , I like the fake carbon fibre panels on the back. This is the first time I have bought from Mobilefun and the case came promptly with no issues , job done !
12 Recensioner
|
Skriv en recension
---
Mer information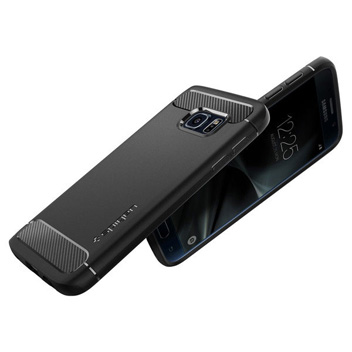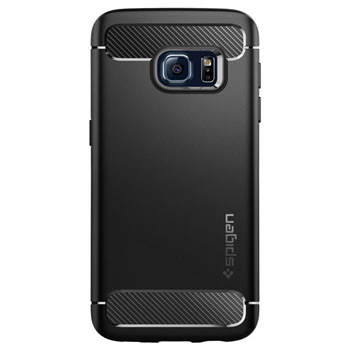 Tufft och robust skydd
Den nya Rugged Armor är Spigen senaste tillskottet, som ger enastående skydd i en slimmad förpackning. Tillverkad av en flexibel TPU har Rugged Armor skalet försetts med Spigens välkända Air Cushion Technology som absorberar stötar och slag, samt hålla din Samsung Galaxy S7 trygg och säker i alla lägen.


Snygg
mekanisk konstruktion

Spigen Rugged Armor är byggd för att hålla och att ser bra ut, med sin helt nya kol texturerad design, tekniskt detaljerade linjer och en glansig slät yta, ger det här skalet dig ett robust skydd i ett litet paket.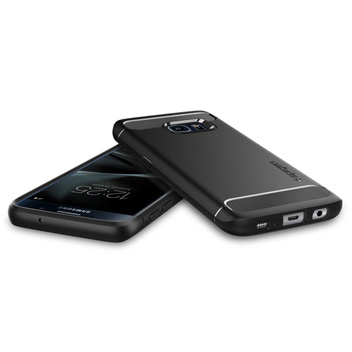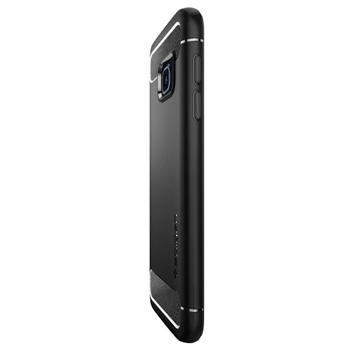 Extremt
tunn och lätt

Tillverkad av ett precisionsskuret TPU lager passar Ultra Rugged skalet perfekt runt din Samsung Galaxy S7 och ger den en smidig, konturerad passform. Skalet är både lätt och tunt, där Spigen har sett till att hålla din enhet skyddad och bulk fri. Rugged Armor kommer komplimenterar din Galaxy S7 samtidigt som ett extra skydd för telefons kamera finns inbyggt i form av en uphöjd kant.


Inbyggd
stötdämpning och linsskydd

Spigen erbjuder en patenterade spindelnätsdesign och luftkuddeteknik inom skalet för att skydda din vackra nya Galaxy S7 från alla vinklar. Så du kan alltid vara säker på att telefonen skyddas mot oavsiktlig droppar och fall. En annan fantastisk funktion i det här skalet är dess upphöjda främre kant, som följer telefonens kant för periferat skydd.


Taktila
knappar
Med
taktila tryckknappar
som ingår i
utformningen av
det här skalet
,
kan
du
vara
säker på att skalet skyddar utmärkt din
nya enheten
, självklart
utan att påverka något av Galaxy S7
ursprungliga funktioner.
Enkel åtkomst till
alla portar, funktioner
och
anslutningar
Skalet har utskärningar
för alla
portar och
funktioner som din Galaxy S7
kan tänkas behöva
, inklusive
dockningskontakten och
kameran
.