Ghostek Cloak iPhone 6S / 6 Hårt Skal + skärmskydd - Klar / Röd
Artikelnummer: GHOCAS328
Produktnummer: 58004
SKÄRMSKYDD INGÅR! Cloak Skyddsskal i rött från Ghostek levereras med ett tufft tempererat glasskärmskydd för att ge din iPhone 6S /6 med fantastiska allround skydd.
"Well designed"
"I am very impressed"
"Excellent buy"
Most useful customer reviews
Lesley Maclachlan
Scotland
iPhone 6s
28 juni 2017
Well designed
The case fit is perfect. The phone is well protected. It gives the phone an individual high quality look without looking like a case. My grandson was very impressed and a little bit envious- more cool than his he said.
Joan Simpson
Keith Scotland
iPhone 6
1 juni 2017
I am very impressed
I am very impressed with the Ghostek Cloak in red. It is very stylish and chic without being pretentious.it does not affect the performance of the phone in any way. Sound is clear and the camera works perfectly. The cleaning pads were a bonus as everything was on hand for a quick easy transition from an iPhone that was dull to one that now stands out. Very pleased. Highly recommend
Jackie
Portsmouth
Iphone 6s
23 januari 2017
Excellent buy
As usual from mobile fun,excellent product,fits my phone lovely and looks great,nice and slim which doesn't make the phone look bulky,clear back so you can see the original colour and design of your phone and I love the colour and design of the red edge.would recommend to anyone looking for a stylish case.a added bonus is that it comes with a screen protector which is so so easy to apply.
15 Recensioner
|
Skriv en recension
---
Mer information
Erbjuder ett allround skydd för din iPhone 6S / 6

Ger ett komplett skydd för din iPhone 6S / 6, skalet Cloak från Ghostek skyddar telefonen från topp till tå för att hålla den säker från all vardaglig påverkan som mobilen kan tänkas utsättas för under användning. Skalet är stark och har en hållbar design i kombination med ett tempererat glasskärmskydd som medföljer skalet.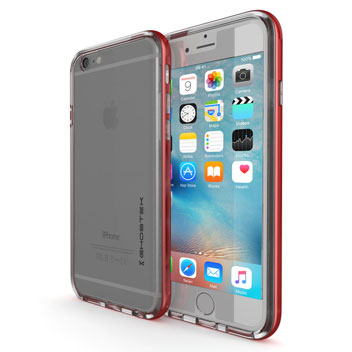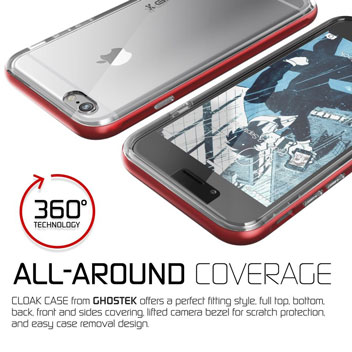 Genomskinlig baksida och metallisk ram som komplimenterar din iPhone 6S / 6
Ghostek Cloak är ett skal sammansatt av en baksida av TPU och en ram av aluminium som kommer se till att din iPhone 6S / 6 alltid är skyddad. Med den genomskinliga baksidan och aluminium bumpern skyddas enheten samtidigt som Cloak komplimenterar perfekt telefonens naturliga design som kommer lysa igenom.
Tempererat glasskärmskydd ingår
För ett fullständigt kroppsskydd ingår ett speciellt tempererat glasskärmskydd. Lätt att applicera och extremt robust, ger detta glasskydd samma känsla som din skärm samtidigt som den erbjuder de tuffaste tillgängliga skyddet.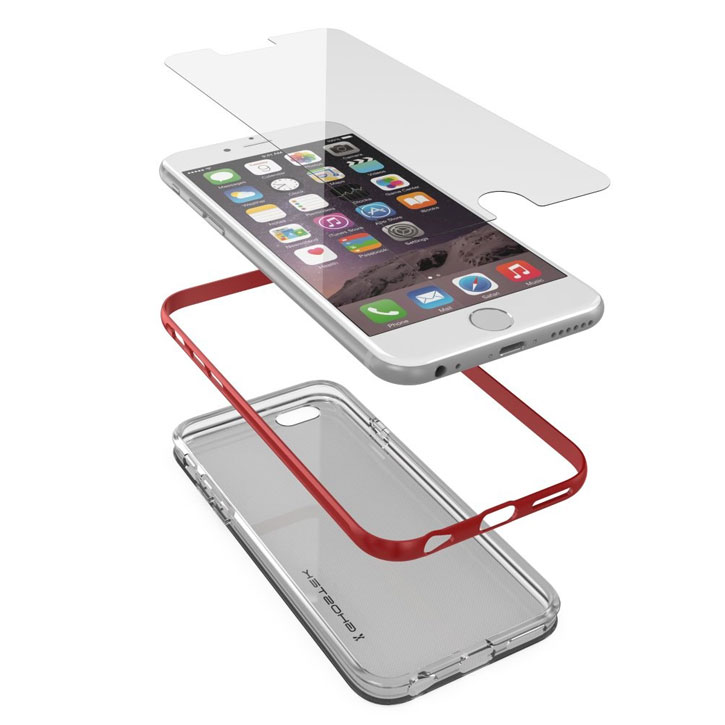 Tillgång till iPhone 6S / 6 portar och funktioner
Ghostek Cloak Tough skalet optimerar funktionalitet till alla iPhone 6S / 6 portar och funktioner. Anti-rep skalet har TPU knapparna medan hörlursuttaget, laddningsporten och kameran är öppna och redo för användning.