Most useful customer reviews
Jason lyle
cotswolds
HTC m 10
30 maj 2016
olixar hard case.
I was looking for a case to protect my new phone ,and with this it does exactly that very sturdy and drop proof. Looks good and is very effective but doesn't restrict the uses of the phone . Everything you need in a case buy one already.
JOHN WALNE
BLACKPOOL
HTC 10
28 maj 2016
BRILL MOBILE FUN AGAIN!!
Every time I order anything for sale on Mobile Fun I know I am going to get a top first class item and best of all a delivery service that no one else can beat! I use Mobile Fun every time and always check their website for the latest and best offers.
Edward Barker
Banbury
HTC 10
23 November 2016
Solid case. Minor problems.
Overall I am satisfied with my purchase, the case is a solid build, protects the phone well from falls and has good shock absorbtion and as well the phone is still comfortable to use with the case on. Added bonus is the slide out stand, allowing user to sit phone on side to watch movies or play games on a wider screen. The only thing that let this case down in my opinion was the amount of space left for the aux, half the time I go to plug in headphones of aux cable I have to take off the top end of the case to plug in cable. Aside from that I would highly reccomend this case for any phone, this is actually the second time I've bought this style of case for one of my phones.
21 Recensioner
|
Skriv en recension
---
Mer information
Skal bestående av två lager skyddar mot stötar, repor och fall


Det tåliga och skyddande skalet har designats för dem med en aktiv livsstil. Det erbjuder ett utmärkt stötskydd tack vare de lätta TPU-polymerna med ett precist positionerat hårt skelett för ökat skydd. Skelettets design sträcker sig ut för att skydda de känsliga delarna av din HTC 10, som till exempel hörnen och sidorna.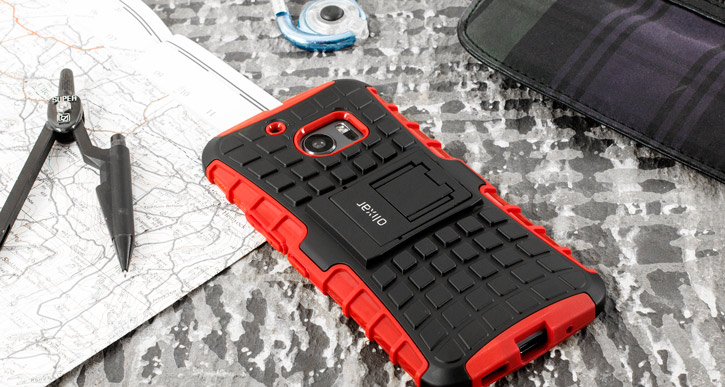 Inkluderar ett stöttåligt polykarbonatskelett


ArmourDillo Hybrid Protective skalet från Olixar har ett tåligt skelett som täcker baksidan och de känsliga hörnen på din telefon. De är tillverkade av ett stöttåligt polykarbonatplastskal som skyddar din HTC 10 från oavsiktlig skada och ser till att din telefon ser lika bra ut som när du köpte den.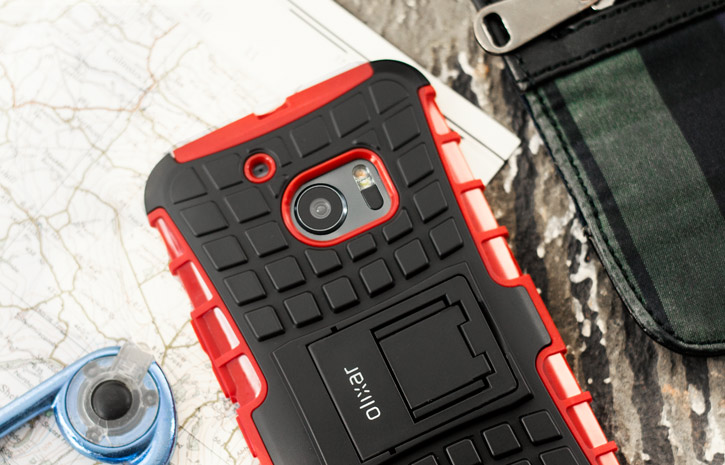 Texturiserad rutnätsfinish som förbättrar greppet och bekvämligheten


Som komplement till polykarbonatets skyddande egenskaper finns en texturiserad finish som inte bara hjälper till att förbättra greppet utan som även gör det mer bekvämt att hålla din HTC 10 i handen.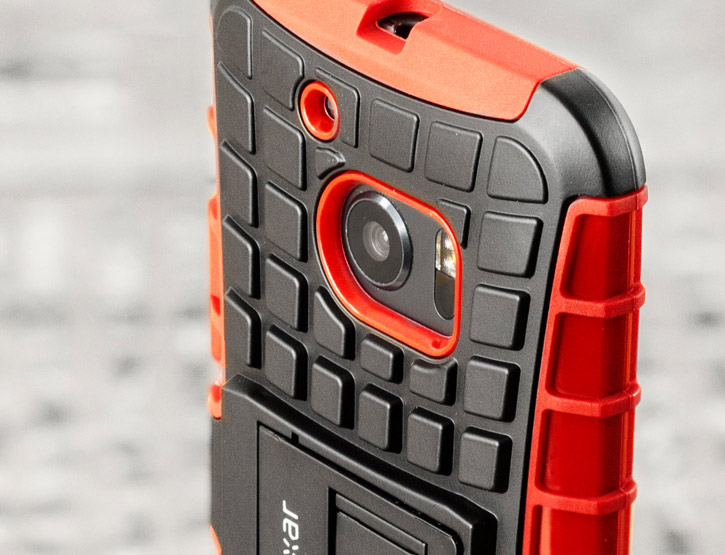 Portabelt utfällbart stativ för liggande visning


Armourdillo hårda skelett ger inte bara styrka till silikonskalet, utan har även ett ergonomiskt designat stativ som kan fällas ut för att ge en perfekt visningsvinkel för visning av media, surfning på internet och läsning. Stativet kan sedan enkelt fällas tillbaka till baksidan av skalet och ligger helt platt, och lägger därmed inte till någon extra bulk till skalet.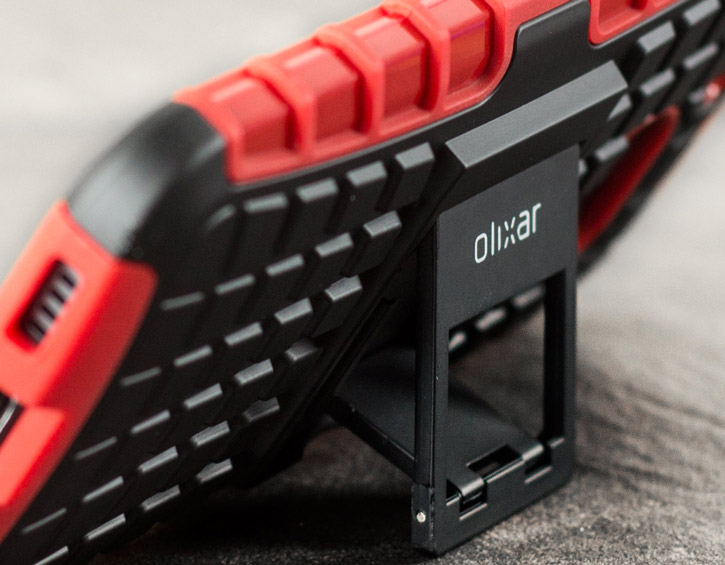 Utskärningar för huvudporten och funktioner till telefonen


Det tåliga och skyddande skalet har specialdesignats till HTC 10 och har utskärningar för alla huvudportar och funktioner till din smartphone, som till exempel kameran och blixten. Av- och påknappen och volymknapparna är täckta men förblir funktionella men omslutna för ett oslagbart skydd.