Most useful customer reviews
ben evans
Solihull
iPhone 7
15 maj 2017
Does the job
Great product at a great price and really does work
Miss Henrietta T Charles
Swansea
iPhone 7
2 oktober 2016
Great Screen Protector
I recently bought Olixar iPhone 7 Screen Protector 2-in-1 Pack from mobilefun and it arrived as they said it would about 3-5 days after purchasing and the product is really great compared to other screen protectors that have had at the past,I just got a new iPhone 7 and I wanted a nice screen protector that will fit & protect well my device and this is absolutely what have always been looking for.I would recommend anyone if you looking for a screen protector or any devices for your phone to visit mobilefun you won't be disappointed.
vicky
lincolnshire
iphone 7
26 September 2016
Olixar iPhone 7 Screen Protector 2-in-1 Pack
These are brilliant easy to apply and protect the screen really well. Great value for money. would highly recommend these for your phoe.
8 Recensioner
|
Skriv en recension
---
Mer information
Förhindrar att skärmen repas och utsätts för annan skada

Olixar serie av skärmskydd är designade för att hålla skärmen på din iPhone 8 / 7 fri från repor och skråmor som kan påverka skärmens synlighet. Genom att skapa en tålig barriär mellan skärmen och världen kommer skador att träffa skärmskyddet och inte telefonen, vilket håller din enhet lika bra som om den vore ny.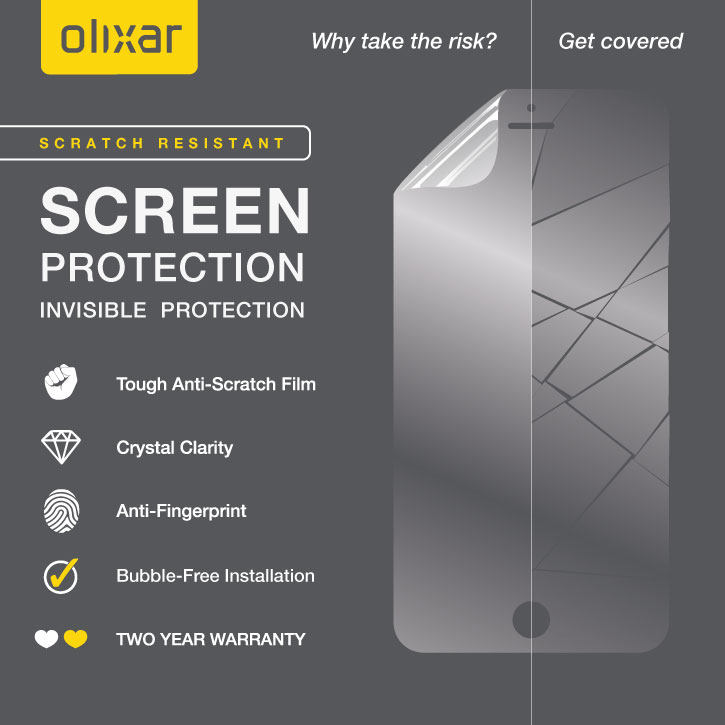 Enkel att applicera
Skärmskyddet Olixar är enkel att applicera eftersom de är skräddarsydda för varje enhet. Rengör enkelt skärmen med den inkluderande mikrofibersduken, rada upp skärmskyddet på din iPhone 7 och använd applikationskortet för att jämna ut eventuella luftbubblor. Väl på plats är skärmskyddet näst intill osynligt.

Kristallklarhet ger ett osynligt skydd
Samtidigt som det är viktigt att skydda skärmen är det även viktigt att skärmskyddet inte förhindrar användadet av din smartphone genom att göra skärmen grumlig eller minska på skärmens mottaglighet. Olixar skärmskydd är specialtillverkade för att erbjuda optimal klarhet, samtidigt som det är tunt nog för att skärmen ska fungera som vanligt. Väl på plats kommer du inte ens märka att skärmskyddet Olixar är där.

Kommer med 2 skärmskydd för 2 gånger mer skydd
Olixar skärmskydd kommer i ett paket med 2 stycken skärmskydd, så du får 2 gånger mer skydd till din iPhone 8 / 7. Du kommer aldrig mer att behöva köpa ett nytt skärmskydd med detta skärmskyddspaket.