Most useful customer reviews
Dale K Harvey
Macmerry
Apple iPhone7 plus
11 mars 2017
Best little Bluetooth device ever bought
This fits neatly on any item of clothing and as I have a iPhone7 + there's no phono jack (makes no difference to the iPhone ??) I bought a mobile fun headphones with a jack and due to this great invention I can continue using them and have no further outlay so can afford this great item! Also I lye in bed with the Bluetooth under the pillow and pillow speaker can pick up signal and means NO cables! Thanks #MF!! Dale
Michael J Murray
Hove
Bose Noise Reducing headphones
14 December 2016
Excellent gadget
I use my Bose headphones whenever I travel by air or rail & the ability to now connect to my iPhone or iPad via Bluetooth is a great advantage.
Hamza Jamil
London
Griffin iTrip Clip Bluetooth Headphone Adapter
6 November 2016
Awesome in more ways than one!
If you do a search for a Bluetooth adaptor there is no shortage of them. Having some pretty good headphones already I didn't want to make the change to swap them out for Bluetooth ones. I had tried other clips (eg by Sony) but they were poor quality in terms of sound and use wasn't easy: my use case was I needed them for when I went running. These ones are great: they clip on to my shirt; the sound is pretty much spot on; the buttons are easy to use without having to see them or press hard; and finally, it feels built well. Would recommend that is for sure.
19 Recensioner
|
Skriv en recension
---
Mer information
Nu kan du konvertera dina trådbundna hörlurar till trådlösa Bluetooth-hörlurar
Transformera enkelt dina trådbundna hörlurar till trådlösa Bluetooth-hörlurar med den geniala adaptern Griffin iTrip Clip. Med iClip behöver du inte längre ansluta hörlurarna direkt till din smartphone eller surfplatta, istället kan du ansluta dem till iClip och strömma musik eller video trådlöst.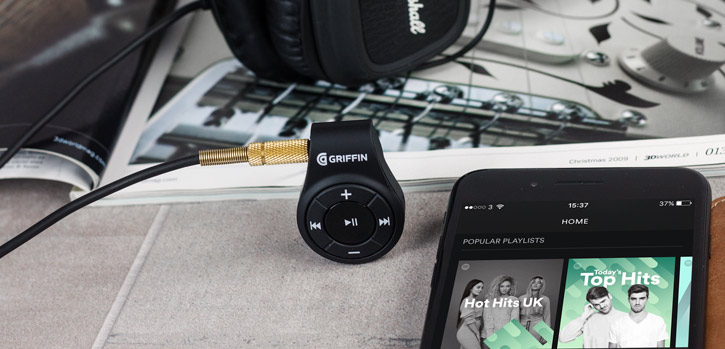 Perfekt att använda med enheter utan en 3,5 mm hörlursuttag
Orolig över att du kommer behöva köpa dyra Bluetooth hörlurar ...? Med iTrip Clip Bluetooth-adapter, finns det ingen anledning, den är nämligen perfekt för användning med enheter som iPhone 7/7 Plus och Moto Z, som inte har ett 3,5 mm hörlursuttag. Koppla enkelt ihop enheten via Bluetooth med iClip och du kommer fortfarande att kunna använda dina favorithörlurar.
Perfect för användning med bilar och hem stereohögtalare
Den här iClip Bluetooth-adaptern är inte begränsad till att användas med hörlurar. Anslut den till din bil, via stereohörlursjack eller till stereon hemma och du kommer kunna använda den på exakt samma sätt.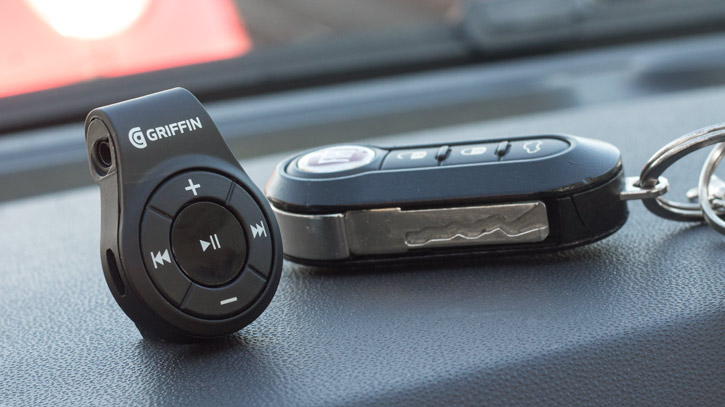 Inbyggd mikrofon för handsfree-samtal och röstigenkännings appar
Eftersom iClip har en inbyggd mikrofon, kommer du kunna ta emot och ringa, samt ta emot videosamtal , utan att behöva röra telefonen.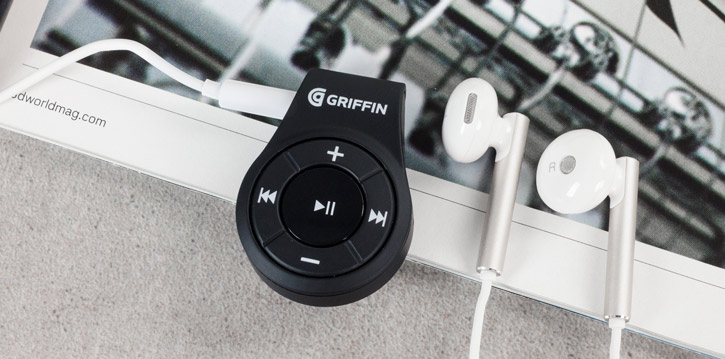 Automatisk Bluetooth-anslutning
När du har kopplat ihop Bluetooth-enhet redan en gång, så kommer iClip automatiskt återansluta till den varje gång du använder den specifika enhet, vilket innebär att du inte behöver slösa tid på att para ihop enheten igen med iClip adaptern.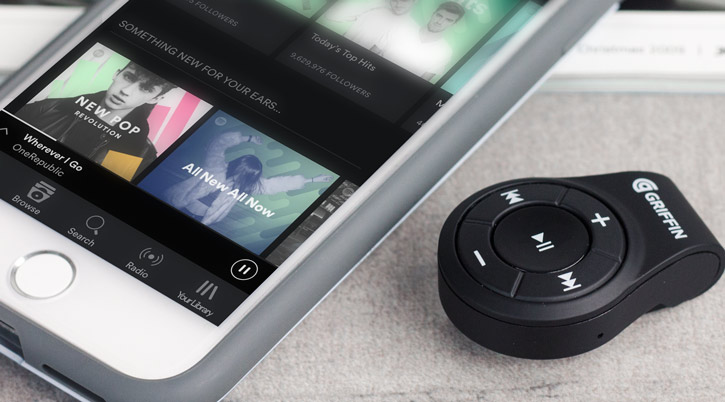 Integrerad och lättanvända kontroller
Med inbyggda kontroller som fungerar med musik, video och streaming program som Spotify och Deezer, kommer du att kunna spela, zappa, spola tillbaka och justera volymen, med bara dina fingrar.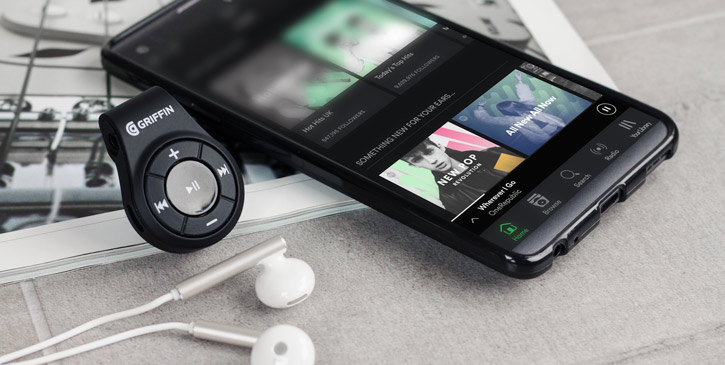 Klipp på - design
Designad för att vara lätt att använda, genom den inbyggda fästnings funktionen, kommer iClip Bluetooth-adaptern glida direkt på din krage, ficka eller hylsa. Med sin kompakta design, är den även perfekt för användning när du är ute och kör eller på gymmet.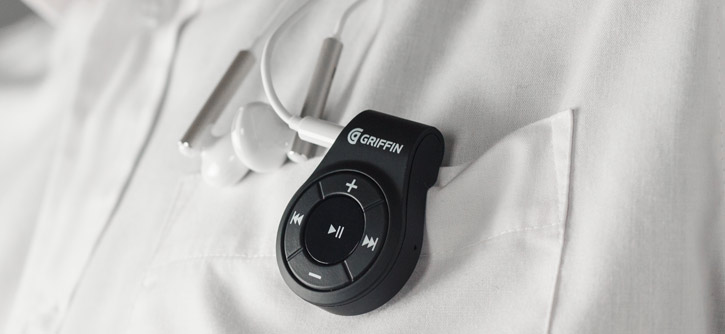 Upp till 6 timmars uppspelning / taltid
Genom användning av ett uppladdningsbart litium-jon 800mAh batteri, kommer din iClip ha upp till 6 timmars spel / taltid och upp till 180 standby-tid. När det sedan är dags att ladda adaptern, ansluts den till den medföljande Micro USB-kabeln och sedan till en USB-laddningsport.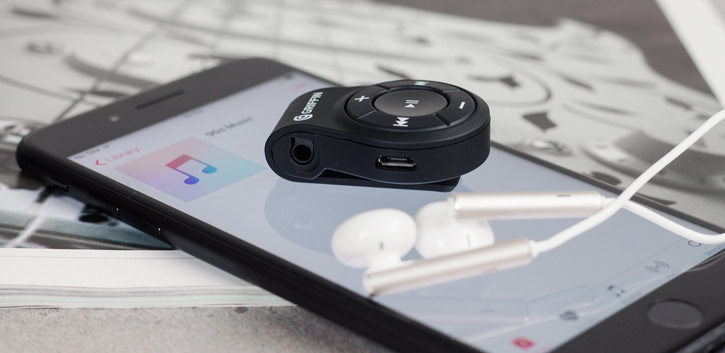 Specification
Bluetooth: Version 4.1
Wireless range: Up to 30 feet (10 meters)
Play / Talk time: 6 hours
Standby time: 180 hours
Battery: Lithium-Ion 800 mAh
Weight: 1.41g