Mer information

Authentic almost life-sized C-3PO bust
From the moment this lovable droid ambled his way onto the big screen, wittering on and admonishing his counterpart R2D2, audiences and fans have been captivated by the gleaming golden fellow and his apologetic cowardly mannerisms. Now, ready to translate to you in over 6 million forms of communication, this Bluetooth Speaker is truly something to behold. It features surprisingly powerful drivers and sub woofer that will enable your media to fill the room with interstellar audio. If you want something that will provide enough volume for a decent sized room, bedroom or office, this will suit perfectly. Sound is punchy, defined and clear, and let's face it, few other bluetooth speakers look as cool and charming as this, however loud it is.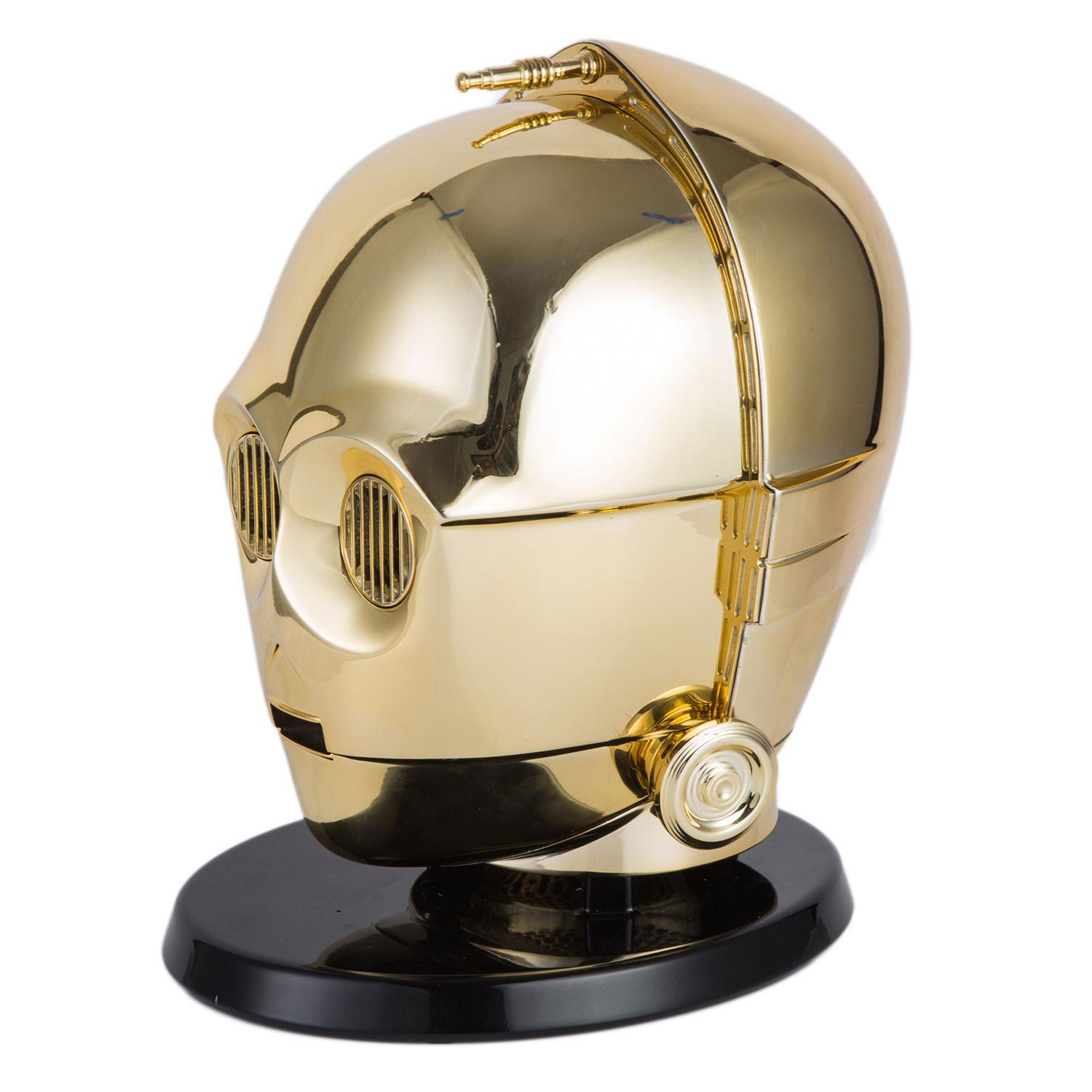 Come along R2D2 - Light up eyes and voice when pairing
What makes the C-3PO Bluetooth Speaker so cool is the light up eyes and when paired. This thing is cool in daylight but in the dark? Forget about it. Upon pairing the speaker will utter an iconic phrase and your character's eyes glow blue whilst paired. Awesome.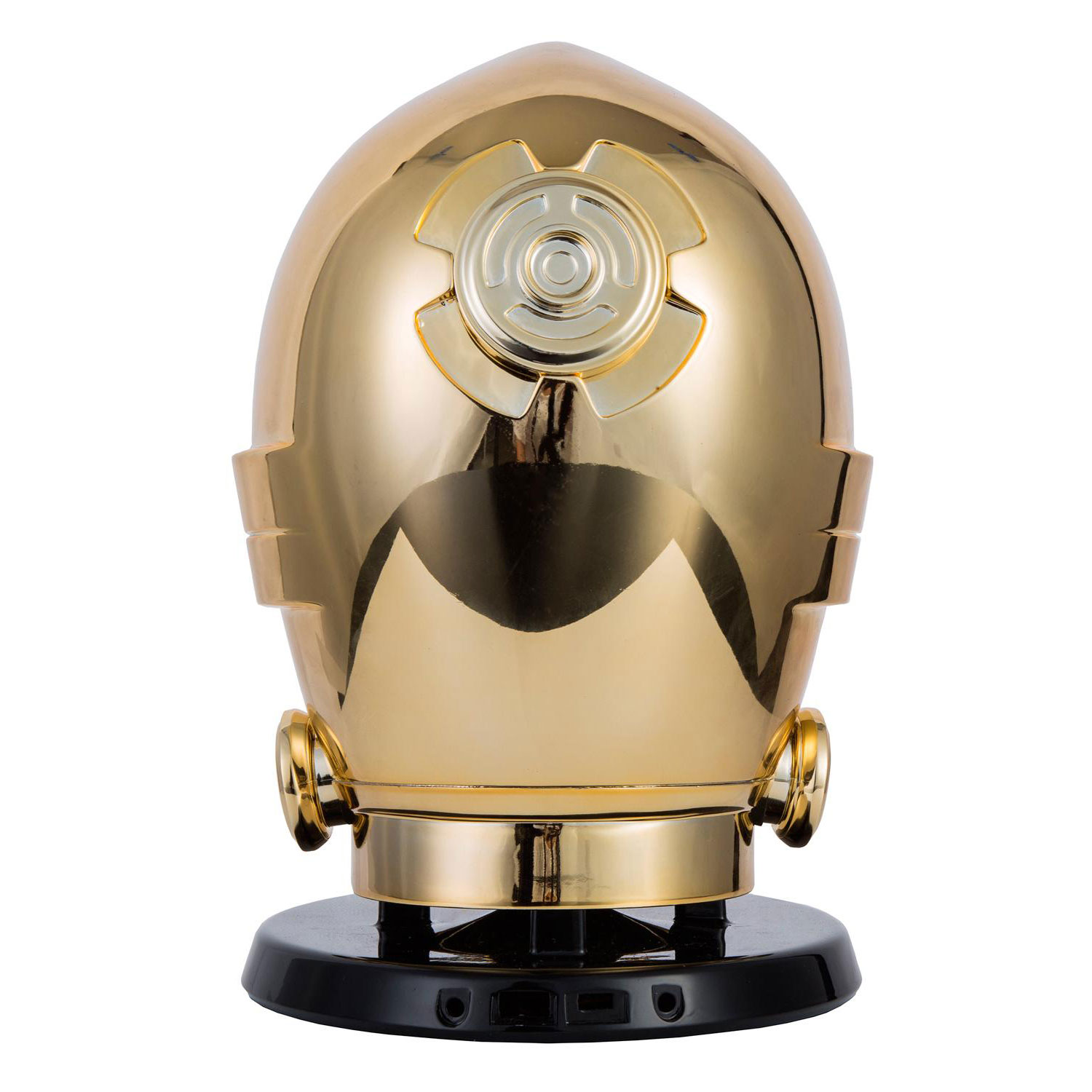 Bluetooth and line-in connectivity so you can connect any audio device in the galaxy
The C-3PO is Bluetooth enabled, so the pairing process is incredibly simple - connecting to your device wirelessly is fast and easy. It supports any Bluetooth music device and you only have to turn the speaker on and search for it using your device. This sound system however also includes a standard 3.5mm jack to allow you to connect devices without Bluetooth technology such as iPods, laptops and MP3 players.
Touch Sensitive Buttons
All the controls on the front of the base are finger-touch sensitive so there is no need to press down - just simply hold your finger over the chosen command and it reacts to your touch.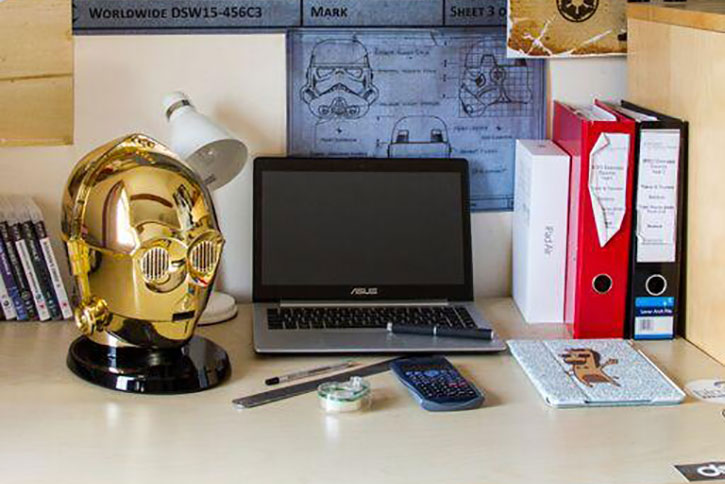 Built-in microphone for hands-free calls
The C-3PO's built-in microphone makes it easy to take calls hands-free or in a group. You can easily switch between playing audio and receiving calls with the multifunction button. The internal microphone is compatible with Bluetooth enabled phones, Facetime, Skype and other applications (not all phones will support these features) - making it a perfect item for office conference calling or family Skype chats. If you're listening to music and you receive a call, your music will pause for the duration, continuing on afterwards.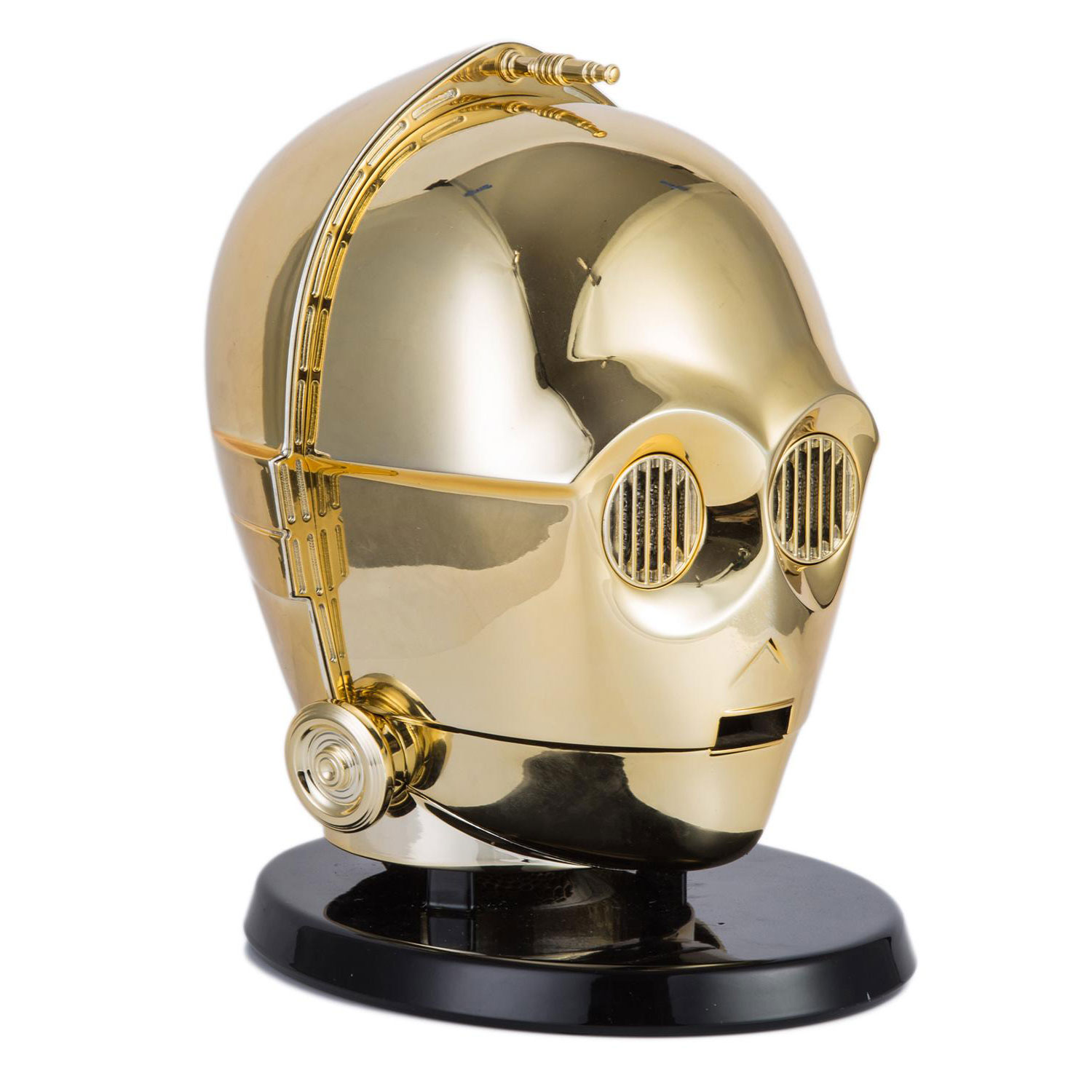 Built-in rechargeable battery
Fully loaded with a rechargeable 8.4v 2200mAh lithium battery which will last you around 5 hours without charging. Recharging the C-3PO's battery is made easy with the DC adapter. Or, you can run it all day long from a mains power outlet.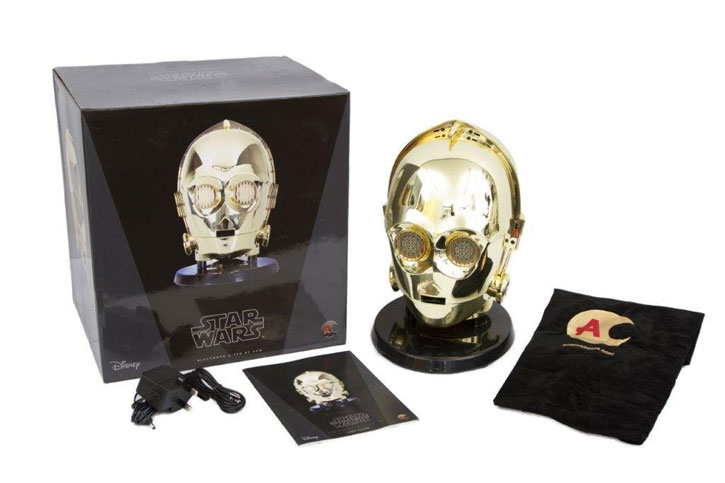 Official Star Wars Disney merchandise
There is plenty of fake, unofficial merchandise out there. Especially with something as iconic as Star Wars. Well, this isn't that. This is 100% genuine licensed merchandise from Disney. So if you want to give this as a gift (and it is perfect for that) rest assured you are purchasing the real deal.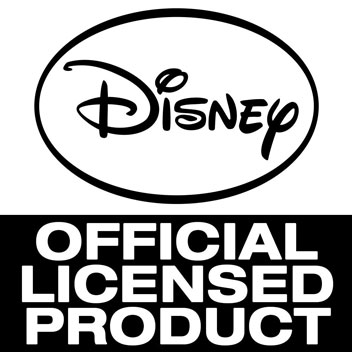 Specifications
Output Speakers: 3W x 2 - 32mm 4 Ohms
Output Ported Subwoofer: 15W - 102mm 2.3 Ohms
Frequency Response: 20HZ -20KHZ
DC input: 9v, 2.5h
Battery: 8.4V,2200mAh
Battery time: 4-5 hours
Battery Charge Time: 2-3 hours
Bluetooth Version: CSR 4.0
Average rating 5,0 given by 4 customers | Skriv en recension
geoffro
wollongong
13 November 2017
great
excellent itewm well priced custumer communication excellent will deal again manny thanks
Translated from English
0 out of 0 found this helpful
Did you find this review helpful?
---
Brett
Gold coast
22 December 2016
Fantastic
The perfect gift for a Star Wars fan. Amazing detail, lights - sound is pretty decent. Purchased this and storm trooper for a client, running linked in tandem they are great in his office. Bass lacking a little compared to a bose soundlink mini, still ok though. Recommended.
Translated from English
0 out of 0 found this helpful
Did you find this review helpful?