Most useful customer reviews
16 juli 2017
Excellent profile does what it says.
The description on the website was accurate I was not aware that damaged product was exempt from replacement but the supplier very kindly replaced the item.You can't ask for better service than that.The replacement so far has been fine.
8 juli 2017
Great protection and easy installation
It is a very durable protector my phone fell on a metal bar and it didnt even scratch. Plus installation was a breeze. There was a little rainbow effect at first but its gone and it fits with all the cases iv tried.
Enamul Choudhury
Luton
Samsung galaxy S8
7 juli 2017
Protects my phone
I was procrastinating on getting a cover for my phone then it fell out of my locker one day and gave me a heart attack. Since I have had this cover which is seamless and easy to put on looks the part sleek and the touch sensitivity is still just as good. I'm safe in the knowledge now my phone will not crack anytime soon!
88 Recensioner
|
Skriv en recension
---
Mer information
Högspännings 9H härdad glaskonstruktion för ett ökat stötskydd
Skärmskyddet Olixar är tillverkat av ett förstärkt härdat glas som behåller en perfekt bildklarhet samtidigt som den skyddar telefonens skärm mot repor och yttre påverkan. Genom att använda glas, dvs Olixar härdat glasskärmskydd med sin imponerande hårda yta och endast 0,3 mm tjocklek är den alltid redo för din dagliga rutin – och tar hand om telefonens display samtidigt som den lyckas upprätthålla skärmens fantastiska visuella kvaliteter.
Komplett skydd som fungerar med skalet på
Den geniala lösningen bakom det här skärmskyddet är tjockt härdat glas skydd som även täcker kanterna på den krökta skärmen. Undersidan av skärmskyddet sitter platt på skärmen och följer konturerna av telefonens skärm perfekt. Detta innebär att den täcker hela skärmen och erbjuder ett komplett skydd. Nu behöver du inte längre lämna de krökta kanterna exponerade och detta ser naturligtvis till att ingen smuts kommer in – så ingen mer "halo effekt".
Förhindrar att skärmen repas och utsätts för annan skada
Olixars utbud av skärmskydd är designade till att hålla skärmen på din Samsung Galaxy S8 fri från skråmor och repor som kan påverka skärmens synlighet. Genom att skapa en tålig barriär mellan din skärm och den yttre världen kommer skador att ske på skärmskyddet och inte på din telefon och håller därmed din telefon lika bra som om den vore ny.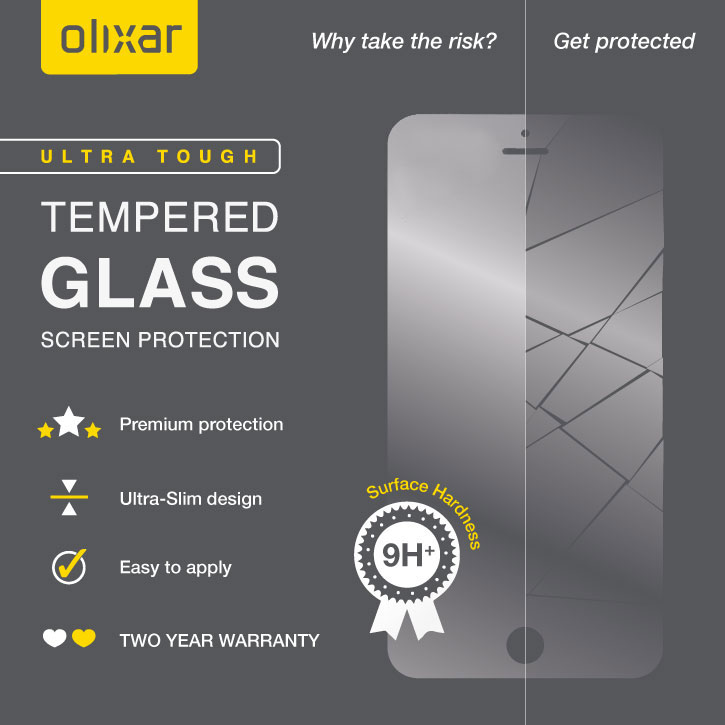 Böjt skärmskydd som täcker även sidorna av skärmen
Samsung Galaxy S8 har en unik böjd skärmkant, som är perfekt för att visa meddelanden på sidorna av telefonen. Så Olixars krökta härdade glasskärmskydd är utformat för att täcka just även dessa områden på skärmen, så att du alltid kan vara säker på din Samsung Galaxy S8 har en100%-tig display täckning samt ett fantastiskt allroundskydd .
Kristallklarhet erbjuder ett osynligt skydd
Samtidigt som det är viktigt att skydda skärmen på din telefon är det även viktigt att skärmskyddet inte hindrar användandet av din telefon genom att göra skärmen grumlig eller minska på pekskärmens känslighet. Olixars skärmskydd är specialtillverkade för att erbjuda optimal klarhet samtidigt som det är tunt nog till att hålla pekskärmen i ett perfekt skick. Väl på plats kommer du inte ens att märka att Olixars skärmskydd är där.
Lätt att applicera
Olixars skärmskydd är lätta att applicera eftersom de är skräddarsydda efter varje enhet. Rengör först skärmen med den medföljande rengöringsduken i mikrofiber, applicera skärmskyddet och använd applikationskortet för att jämna ut eventuella luftbubblor. När skärmskyddet väl sitter på är det in princip osynligt