Mer information
Fun, friendly and full-featured robot night light for your child's bedroom
There are lots of potential uses for a night light in your child's room - a nice accompaniment as they fall asleep, for example, or a way to illuminate books, comics and other reading material before bedtime. That said, why buy any old night light when you could go for Roboglow?
Roboglow is a smart, fun, friendly and feature-rich alternative to a regular night light. Fully sound-activated, rechargeable and customisable, this robot will be a constant companion for your kids - as well as a protector, lighting their way into dream land.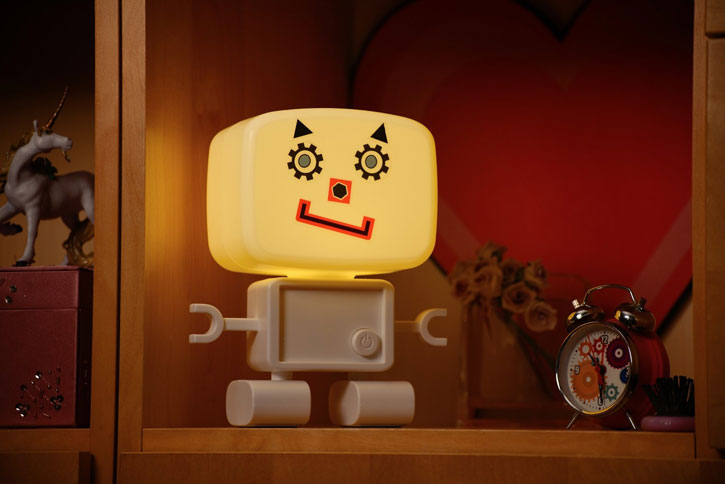 Sound-sensitive for remote activation
Do you need just a little more light for just a little longer? Maybe your child's falling asleep, but you just need those extra few seconds to finish that chapter of the book you're reading to them. With Roboglow, you can do just that, thanks to a sound activation feature which keeps the light activated for 2 minutes when you clap your hands. No more reaching for the switch every time you need more light - just clap.
Over 60 stickers to combine into wacky and wonderful faces
Let your child's imagination run wild and free with Roboglow's sheet of 60 cool and crazy facial features. Combine eyes, noses and mouths into just about anything your kid can conjure - from gears to glasses, grins to grimaces, there's something for everyone in Roboglow's range of facial expressions.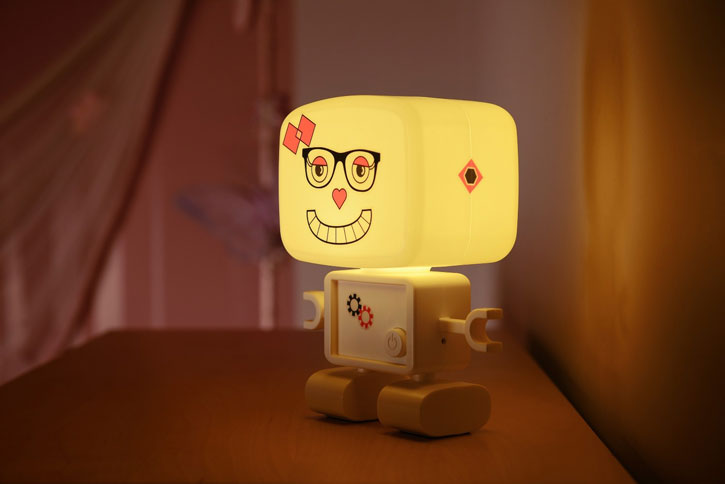 Portable and totally wireless - great for bathroom trips or midnight snacks
Thanks to Roboglow's lightweight, compact build, your child can carry this little guardian with them everywhere they go - to the kitchen, to the bathroom, or wherever their wanderings take them in the middle of the night. Roboglow is truly an indispensable friend for your little ones.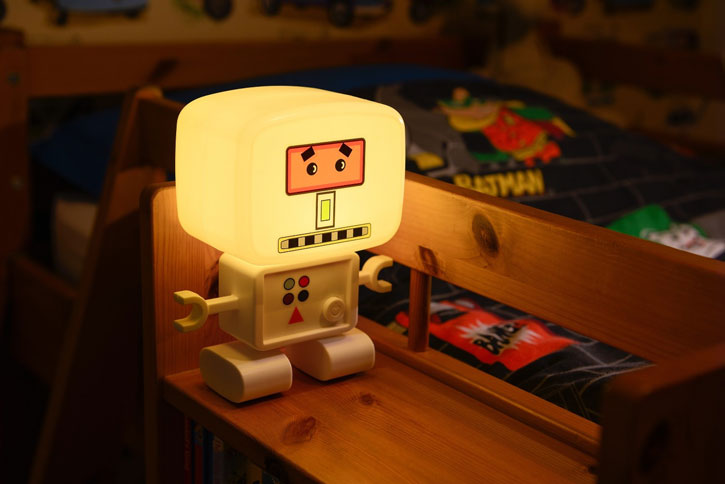 Standard on / off mode keeps things simple
If you just need a standard night light to keep your kid company while they read, don't worry - Roboglow has this function, too. A simple toggle switch allows you to use Roboglow just like any other night light, so there's always a situation where Roboglow is needed.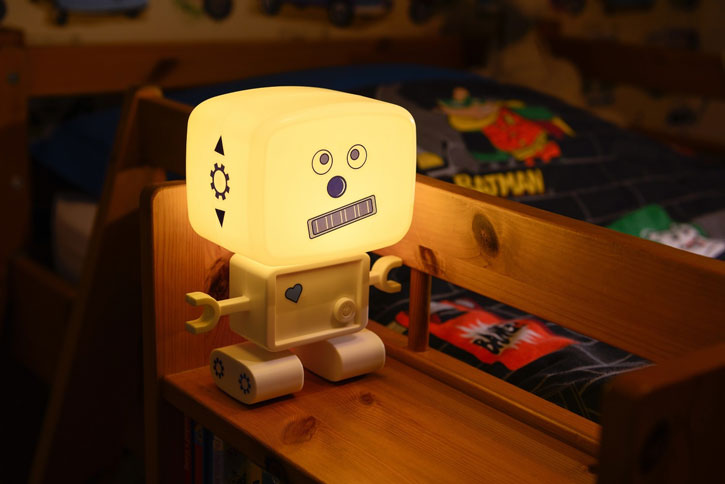 Fully rechargeable via the included USB cable
Using any powered USB port - such as those found on laptops and USB mains chargers, including most smartphone chargers - you can easily and quickly recharge Roboglow. When the light does run out, simply connect the cable and recharge, and in no time Roboglow will be ready to shield your kids from the scary darkness again.
Over 200 activations before a recharge is needed
Roboglow gives you plenty of time to make sure it's fully charged and ready to roll, as each cycle offers over 200 activations before you need to recharge.