Mer information
Charge and sync your device at the same time
Utilising innovative pass-through technology, this charging dock allows you to connect your USB-C smartphone to the cradle via a USB connection and simultaneously use the computer port to charge your phone as well as synchronise your data simultaneously. This means that not only can you be sure that your phone is fully charged but that you can quickly and easily back up important data from your phone onto your computer or laptop.
You can also plug into a USB mains charger, if you don't have a computer USB port nearby.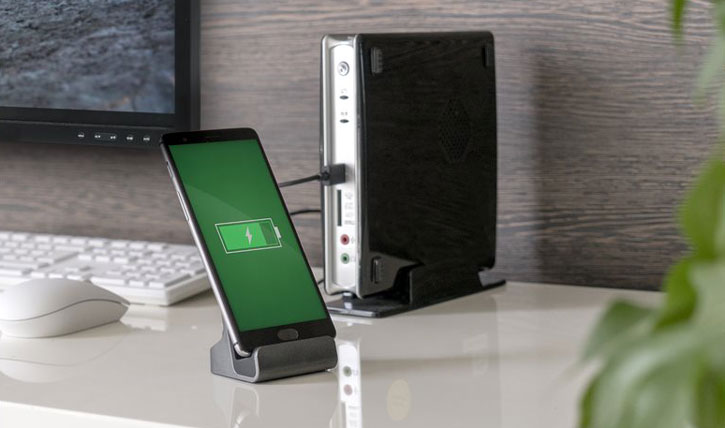 Universal USB-C connector
More and more devices are adopting the USB-C standard - a faster, better and fully reversible connector which is capable of carrying significant current, as well as achieving impressive data transfer speeds. This dock has a universal USB-C connector which will work with any USB-C compatible device on the market. The connector is positioned snugly and optimally for placing most devices.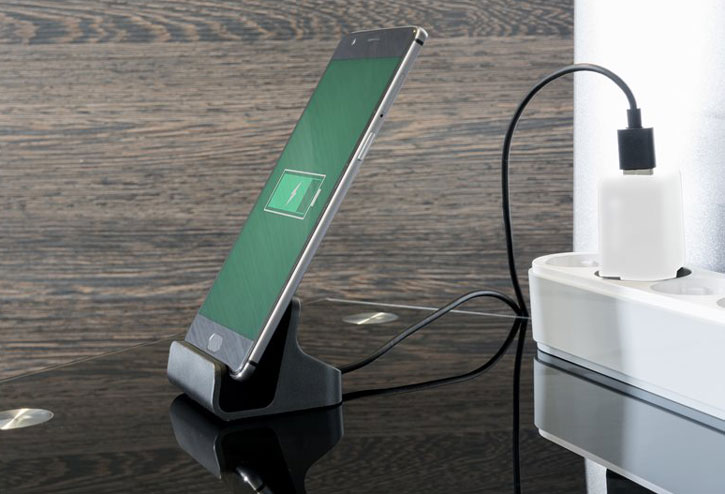 Works with devices with or without a case attached
The Kidigi Desktop Charging Dock stands your USB-C compatible handset at a comfortable viewing angle. It features a unique tilting connection tip which provides enough room for you to use it with your device with or without a case attached, so you don't need to constantly remove your case from your phone every time you wish to use the charging dock.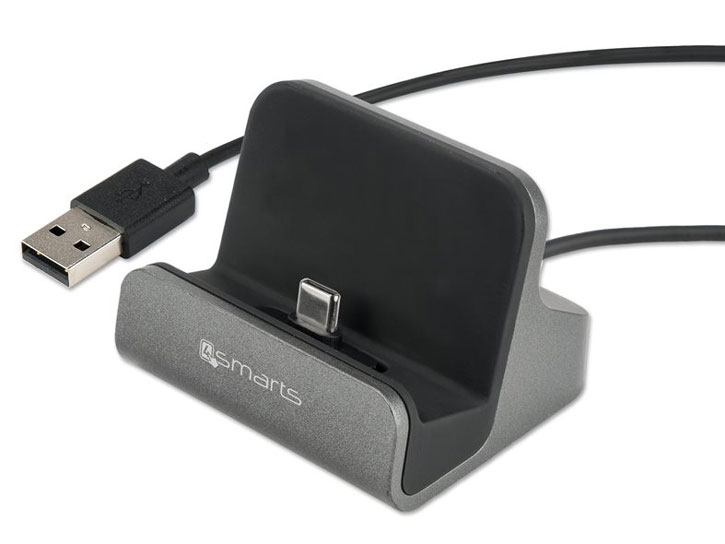 Stable and secure mounting
The dock's rubberised build provides a stable and secure base, so there's no chance of your device moving around or becoming dislodged while docked. VoltDock will also declutter and make your desk look neater with its high quality chrome-style finish.
Compact, lightweight build - perfect for portability
You can take this dock anywhere you need to go. Measuring in at a mere 60 x 46 x 56mm and weighing just 92g, this dock won't trouble any luggage, backpack or other carrying container at all - why lose access to your charging dock just because you're not at home?
Technical Specifications
Input : 5.0V / 2.0A (Maximum)
Output: 5V / 2.0A (Maximum)
USB standard: 2.0
Cable length: 1.1m
Dimensions: 60 x 46 x 56mm
Weight: 92g
Average rating 3,8 given by 4 customers | Skriv en recension
Bryan
Newcastle
6 februari 2018
Phone Dock
Well made, small and neat, service was excellent but I do find with the case on my Huawei P10 Plus with genuine Huawei case was a bit at first a challenge getting the phone jacked in, but now quite good
Translated from English
0 out of 0 found this helpful
Did you find this review helpful?
---
ghecko
Blenheim
4 februari 2018
good product
product is as listed, price was acceptable, delivery times acceptable
Translated from English
0 out of 0 found this helpful
Did you find this review helpful?
---
Comp
Melbourne
17 januari 2018
Intentions are good if you don't have a case!
I thought it would be a great idea to buy the Charge and Sync Dock. However, I found that I could not just dock with my phone in the case! I have to remove the phone from the case (Ottobox Strada) as this prevents docking and making the connection! I know that I may be being picky and lazy but I hate to keep removing the phone from the case. Also, I am not sure if the frequency of doing this will stretch the case, in time, to not allow a snug fix and risk the phone falling out! If you are happy with removing your phone then it's great! If not, just use the USB cable to charge with the phone cover on!
Translated from English
0 out of 0 found this helpful
Did you find this review helpful?
---
Angelo
Adelaide
14 januari 2018
Great product
Item arrived within days of ordering. Opened the package to find a great small charger for HTC phone with a usb-c connection. Once fully charged the phone is in trickle mode. The phone stays upright during calls and other manual operations. Very happy.
Translated from English
1 out of 1 found this helpful
Did you find this review helpful?