Official Samsung Galaxy Oatmeal SmartTag Bluetooth Compatible Tracker
Never lose what's important to you again with the stylish, Official Samsung Oatmeal Galaxy SmartTag Android tracker. You can track where your most important possessions are, like your Bud Pros, wallets, keys, luggage and more. Feel secure with Samsung.
Key Features
Works with Samsung's SmartThings Find feature
Connect to devices over Bluetooth
Sleek, compact design
Keep track of objects like wallets, keys, earbuds, and more
Beskrivning

Never lose your keys again with the sleek, Official Samsung Galaxy SmartTag Bluetooth Compatible Tracker in Oatmeal. It will use Samsung's new SmartThings Find feature to effectively find your most important possessions, so you can spend more time enjoying your day, and less time worrying.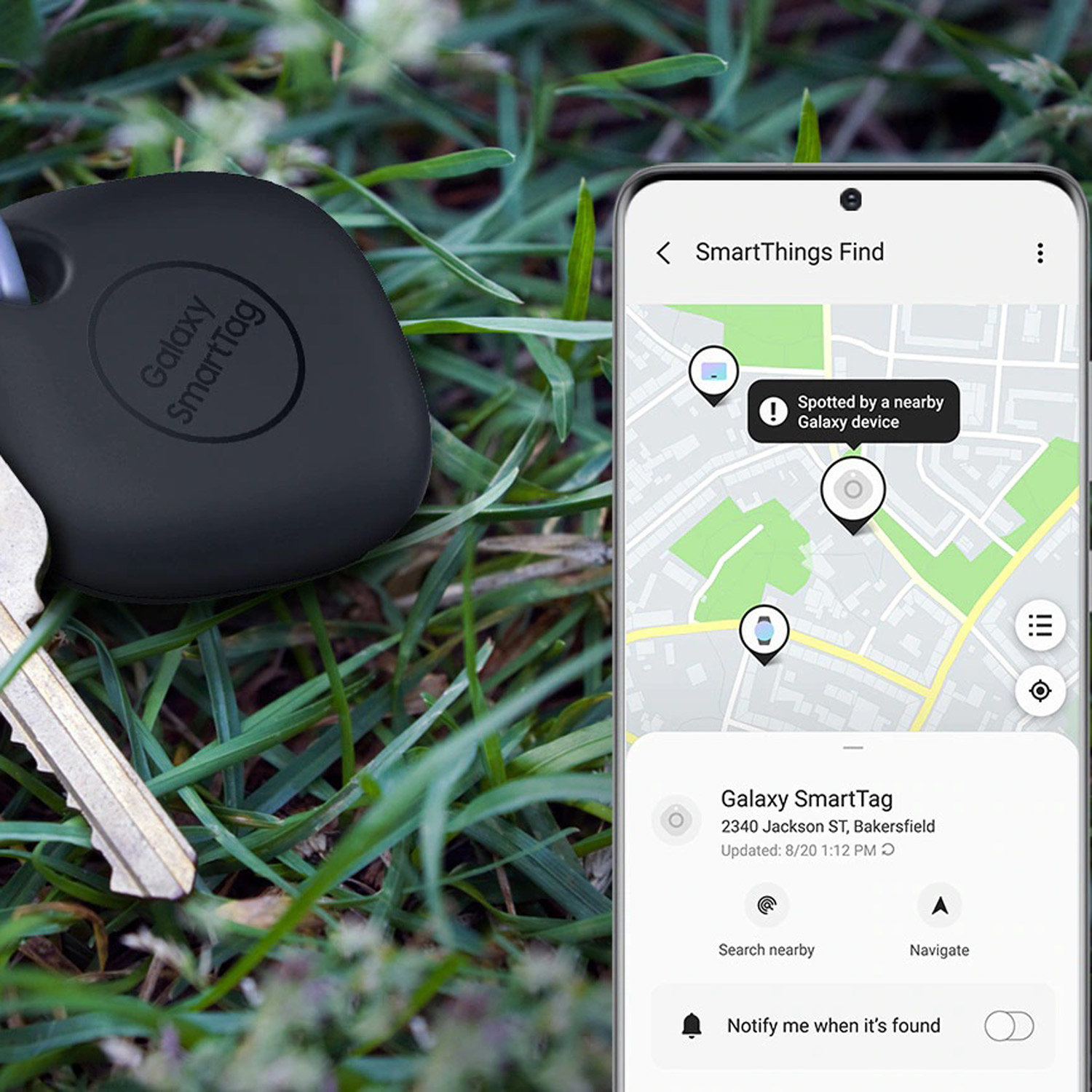 Works with Samsung's SmartThings Find feature
Samsung has created a new feature called SmartThings Find, which allows you to add a little bit of smartness to your home. If you're unsure where your keys are, simply look on the SmartThings app and you can locate where they are easily, quickly and effectively. This saves the major panic in the morning when late for work, as you don't have to start looking everywhere and can instead just open the app and find them instantly.
Connect to devices over Bluetooth
The SmartTags can easily and effectively be connected to your device through Bluetooth. Unlike other forms of connection such as WIFI which requires an internet connection, this is an effective, reliable and secure way to connect your SmartTags to your device.
If the item is outside of your Bluetooth range, SmartThings Find will use other devices, safely and securely, to help find your device. This is completely secure and offers all the privacy that makes Samsung such a popular brand.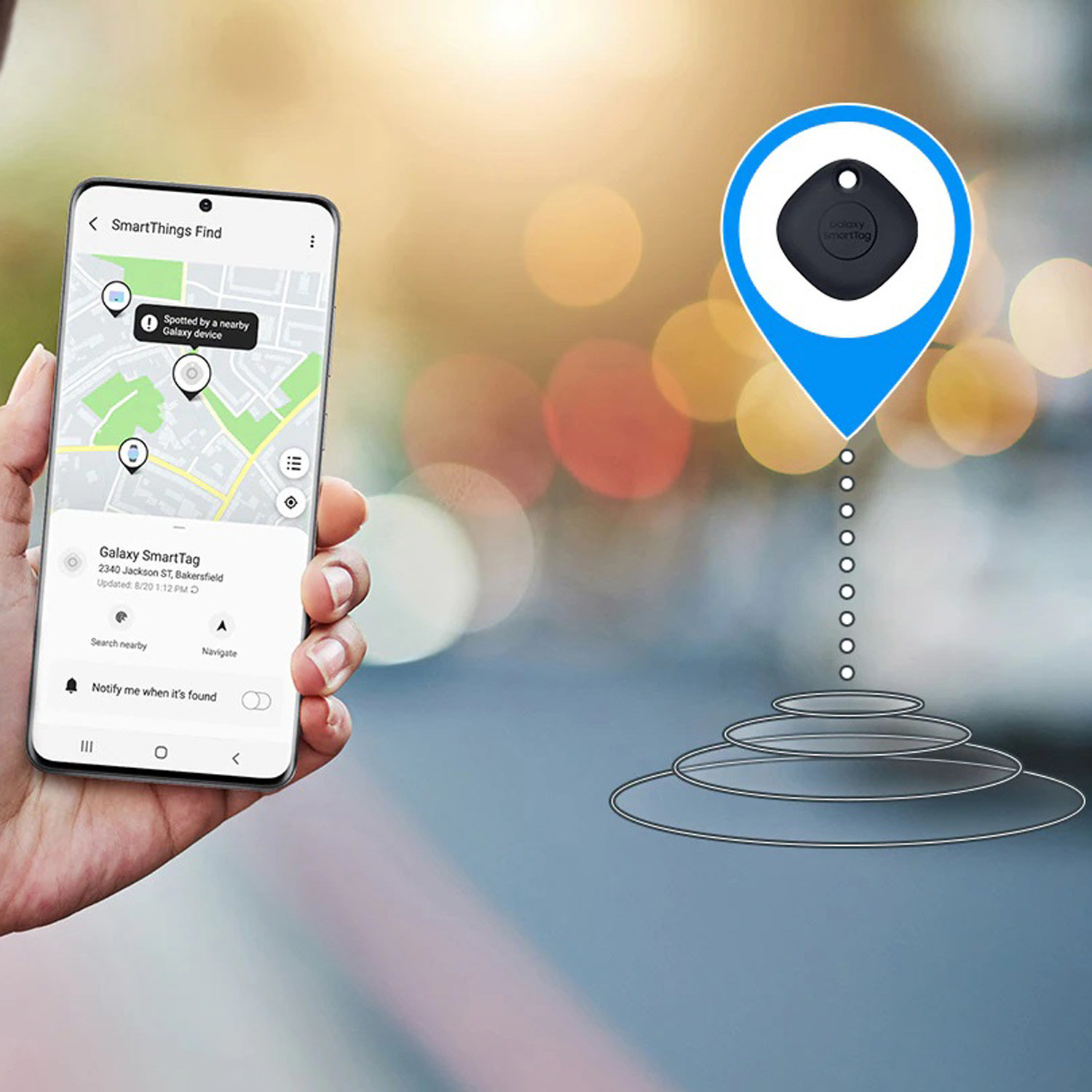 Sleek, compact design
The design is a sleek, thin square-shaped device, stopping it from looking obvious or obnoxious on your keys or wallet. The SmartTag features a small hole which can be used to attach the device to a keyring or a lanyard, keeping it secure in place for your peace of mind.
Keep track of objects like wallets, keys, earbuds, and more
The SmartTag has a small hole which means it can easily be attached to your keys or a lanyard. You can also fit the SmartTag into your wallet or connect it to your Buds Pro / Buds Live case, helping keep the devices that are most important to you safe and secure.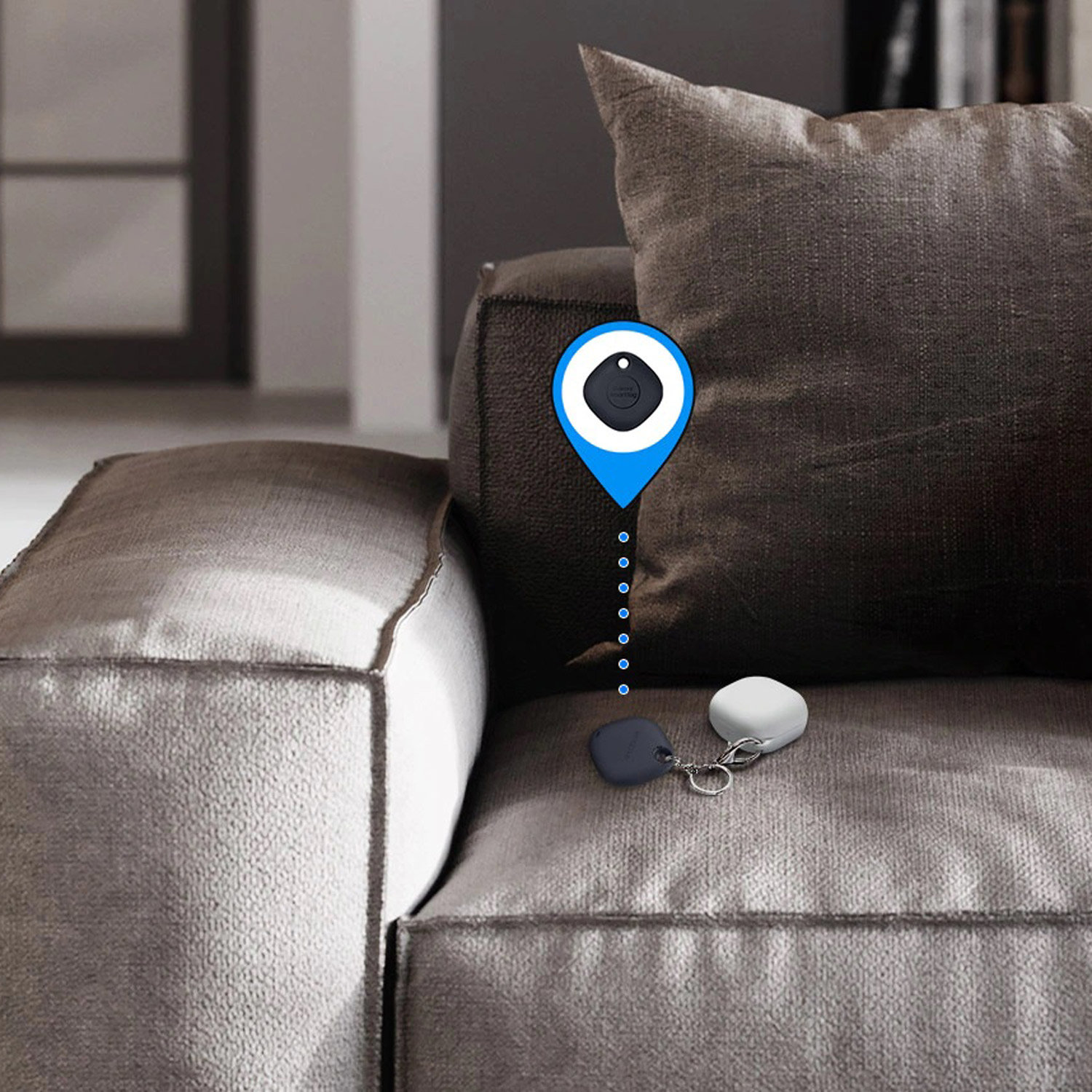 Vad finns i boxen?
1 x Official Samsung Galaxy Oatmeal SmartTag Bluetooth Compatible Tracker
Viktiga detaljer
| | |
| --- | --- |
| Part No | EI-T5300BAEGEU |
| UPC | 8806092096783 |
| Mobile Fun ID | 92573 |
| Färg | Beige |
| Brand Name | Samsung |
Videos
Leverans & Returer
Vanlig leverans: 45.99 Kr
Pålitlig leveransservice till en låg kostnad som är lämplig för mindre brådskande ärenden. Denna service är ospårad och leveransen tar vanligtvis 5-10 arbetsdagar (DHL Global Mail/Posten).
DHL Expressleverans: 305,99 Kr
En snabb, säker och pålitlig service. Din beställning får prioriterad behandling och du får en fullständig online-spårning så att du kon kontrollera ditt paket hela vägen under leveransen. Tar vanligtvis 1-3 arbetsdagar.


OBS! Du kan bara välja standardleverans med en varukorg under 650 kr. Om så är fallet måste du välja en spårbar leveransmetod.
Om din varukorg är över 925 kr måste du välja DHL Express av säkerhetsskäl
Om din beställning är mindre än € 150 exklusive fraktkostnader, är momsen redan inkluderad i det pris du betalar i kassan. Detta innebär att det inte kommer att finnas någon extra moms för betalning när din beställning levereras till dig. För mer information, se Leverans.
Vägran att betala avgifter - Returpolicy
Om du vägrar att betala importtull eller moms som tas ut på din försändelse kan detta leda till att försändelsen returneras till Mobile Fun. I det här fallet kommer alla relaterade returavgifter plus en lägsta administrationsavgift på £ 5,00 (eller motsvarande valuta till aktuell växelkurs) att debiteras mot ditt slutliga återbetalningsbelopp.


Notera:
De beräknade ankomsttiderna är hämtade direkt från information från våra kurirer. Dessa är endast uppskattningar, MobileFun ansvarar inte om detta varierar. Alla produkter skickas från vårt lager i Storbritannien. Saknade eller försenade varor: Observera att vi kommer att behöva vänta 20 arbetsdagar innan vi kan spåra, ersätta eller återbetala förlorade varor. Mailtjänsten kommer inte att vara tillgänglig för högvärdiga beställningar, expressleveransmetoden kommer att tillämpas.
Kompatibilitet
Samsung:
B2100 Solid Extreme
,
B3210 Corby TXT
,
B3310
,
B3410
,
B5310 Corby PRO
,
B5722
,
B7502
,
B7620 Giorgio Armani
,
B7722
,
Beam I8520
,
Beat DISC
,
Blade
,
Book 2 Pro 360
,
C3050
,
C3060
,
C3110
,
C3212
,
C3300 Libre
,
C3350 Solid X Cover
,
C3510
,
C3630
,
C5212
,
C5510
,
C6112
,
C6620
,
C6625
,
Chat 222
,
Chat 322
,
Chat 335
,
Chat B3410W
,
Diva Diamond
,
E1050
,
E1080
,
E1100
,
E1107 Solar Guru
,
E1120
,
E1150i
,
E1170
,
E1360B
,
E2100
,
E2120
,
E2120B
,
E2121
,
E2121B
,
E2210B
,
E2330
,
E2370
,
E250i
,
F480 Player Style
,
Flutter
,
Galaxy
,
Galaxy 3 I5800
,
Galaxy 550
,
Galaxy 551
,
Galaxy A01
,
Galaxy A02s
,
Galaxy A03
,
Galaxy A03 Core
,
Galaxy A03 US Version
,
Galaxy A03s
,
Galaxy A04s
,
Galaxy A10
,
Galaxy A10e
,
Galaxy A10s
,
Galaxy A11
,
Galaxy A12
,
Galaxy A13 4G
,
Galaxy A13 5G
,
Galaxy A14
,
Galaxy A20
,
Galaxy A20e
,
Galaxy A21
,
Galaxy A21s
,
Galaxy A22 4G
,
Galaxy A22 5G
,
Galaxy A23 5G
,
Galaxy A24
,
Galaxy A30
,
Galaxy A30s
,
Galaxy A31
,
Galaxy A32 4G
,
Galaxy A32 5G
,
Galaxy A34 5G
,
Galaxy A40
,
Galaxy A40s
,
Galaxy A41
,
Galaxy A42 5G
,
Galaxy A50
,
Galaxy A50s
,
Galaxy A51
,
Galaxy A51 5G
,
Galaxy A52
,
Galaxy A52 5G
,
Galaxy A52s 5G
,
Galaxy A53 5G
,
Galaxy A54 5G
,
Galaxy A6 2018
,
Galaxy A6 Plus 2018
,
Galaxy A60
,
Galaxy A6s
,
Galaxy A7 2016
,
Galaxy A7 2018
,
Galaxy A70
,
Galaxy A70s
,
Galaxy A71
,
Galaxy A71 5G
,
Galaxy A72
,
Galaxy A72 5G
,
Galaxy A73
,
Galaxy A8 2018
,
Galaxy A8 Plus 2018
,
Galaxy A80
,
Galaxy A82 5G
,
Galaxy A8s
,
Galaxy A9 2016
,
Galaxy A9 2018
,
Galaxy A90 5G
,
Galaxy Ace 2
,
Galaxy Ace 3 3G
,
Galaxy Ace Plus
,
Galaxy Ace S5830
,
Galaxy Apollo i5801
,
Galaxy Beam
,
Galaxy Book 2 Pro 360
,
Galaxy Book2 Pro
,
Galaxy Fit S5670
,
Galaxy Fold
,
Galaxy Gio S5660
,
Galaxy J6
,
Galaxy J6 2018
,
Galaxy J6 Plus
,
Galaxy J7 2018
,
Galaxy J8 2018
,
Galaxy Lite
,
Galaxy M01
,
Galaxy M10
,
Galaxy M11
,
Galaxy M20
,
Galaxy M21
,
Galaxy M23 5G
,
Galaxy M30
,
Galaxy M31
,
Galaxy M33 5G
,
Galaxy M40
,
Galaxy Mini 2
,
Galaxy Mini S5570
,
Galaxy Nexus
,
Galaxy Note 10
,
Galaxy Note 10 Lite
,
Galaxy Note 10 Plus
,
Galaxy Note 10 Plus 5G
,
Galaxy Note 20
,
Galaxy Note 20 5G
,
Galaxy Note 20 Ultra
,
Galaxy Note 8
,
Galaxy Note 9
,
Galaxy Portal
,
Galaxy Pro
,
Galaxy Quantum 2
,
Galaxy S10
,
Galaxy S10 5G
,
Galaxy S10 Lite
,
Galaxy S10 Plus
,
Galaxy S10e
,
Galaxy S2
,
Galaxy S20
,
Galaxy S20 FE
,
Galaxy S20 FE 5G
,
Galaxy S20 Plus
,
Galaxy S20 Ultra
,
Galaxy S21
,
Galaxy S21 FE
,
Galaxy S21 Plus
,
Galaxy S21 Ultra
,
Galaxy S22
,
Galaxy S22 Plus
,
Galaxy S22 Ultra
,
Galaxy S23
,
Galaxy S23 Plus
,
Galaxy S23 Ultra
,
Galaxy S3
,
Galaxy S8
,
Galaxy S8 Plus
,
Galaxy S9
,
Galaxy S9 Plus
,
Galaxy Tab 10.1
,
Galaxy Tab 8 9
,
Galaxy Tab A 10.1 2019
,
Galaxy Tab A 10.5
,
Galaxy Tab A 8.0 2019
,
Galaxy Tab A7 10.4
,
Galaxy Tab A7 Lite
,
Galaxy Tab A8 10.5 (2021)
,
Galaxy Tab Active 2
,
Galaxy Tab Active 3
,
Galaxy Tab S3
,
Galaxy Tab S4
,
Galaxy Tab S5e
,
Galaxy Tab S6
,
Galaxy Tab S6 Lite
,
Galaxy Tab S7
,
Galaxy Tab S7 FE
,
Galaxy Tab S7 Plus
,
Galaxy Tab S8
,
Galaxy Tab S8 Plus
,
Galaxy Tab S8 Ultra
,
Galaxy Teos
,
Galaxy Watch 4
,
Galaxy Watch Active 2
,
Galaxy Z Flip
,
Galaxy Z Flip 3 5G
,
Galaxy Z Flip 5G
,
Galaxy Z Flip4
,
Galaxy Z Fold 2 5G
,
Galaxy Z Fold 3 5G
,
Galaxy Z Fold 4
,
Genio PRO
,
Genio Qwerty
,
Genio Slide
,
Genio Touch
,
Glamour S5150
,
Google Nexus S
,
I550
,
i5500 Galaxy 5
,
i5700 Galaxy Portal
,
i7110 Pilot
,
i7410
,
I7500
,
I8520 Halo
,
Jet S8000
,
Jet Ultra Edition
,
Knox
,
Lucido
,
M2310
,
M2510
,
M3200 Beat S
,
M3310
,
M3510 Beat B
,
M5650 Lindy
,
M7500 Emporio Armani
,
M7600 Beat DJ
,
Miss Player
,
Monte Bar C3200
,
Monte S5620
,
Monte Slider E2550
,
Naos
,
Omnia 7
,
Omnia HD i8910
,
Omnia II I8000
,
Omnia Lite
,
Omnia PRO 4 B7350
,
Omnia Pro B7330
,
Omnia Pro B7610
,
Omnia W
,
P180
,
Pixon12
,
Player 5
,
Player Light
,
Player Mini
,
Player One
,
Player Star
,
Player Star 2
,
Preston
,
Rocky E1130
,
S3100
,
S3110
,
S3370
,
S3500
,
S3600
,
S3650 Corby
,
S5050
,
S5200 Slide
,
S5230 Star
,
S5260 Star II
,
S5530
,
S5560
,
S5600
,
S5750
,
S6700
,
S8300 Ultra Touch
,
S9110
,
S9402 Ego
,
Samsung Galaxy A33 5G
,
Samsung Galaxy Watch 5
,
Samsung Galaxy Watch 5 Pro
,
Shark 2 S5550
,
Shark 3 S3550
,
Shark S5350
,
Solid Immerse
,
Teos
,
Tobi
,
Tocco Icon
,
Tocco Lite
,
Tocco Ultra Edition
,
Wave 2 Pro S5330
,
Wave 2 S5250
,
Wave 3
,
Wave 525
,
Wave 533
,
Wave 575
,
Wave 723
,
Wave II S8530
,
Wave M
,
Wave S8500