Official Samsung White USB-A to USB-C Sync and Charge 1.2M Cable
Enjoy convenient and safe sync and charging for your USB-C compatible devices with this Official Samsung 1.2M long cable in white. You can use this cable with a USB-A wall charger or through your desktop or laptop.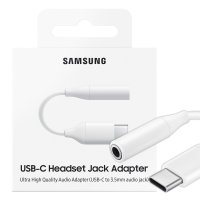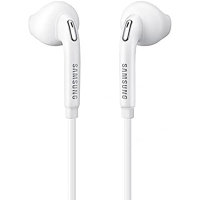 Key Features
Official Samsung USB-A to USB-C Cable
Suitable for syncing
1.2 metre-long cable
Compatible with most USB-C-supported devices
Beskrivning

Official Samsung USB-A to USB-C Cable
The internet is flooded with cheap fake Samsung chargers and cables that could damage your devices and possibly even cause injury to yourself and your family. At Mobile Fun we pride ourselves on only sourcing products from respected suppliers that have been authorised by Samsung. So you can be sure of a top-quality accessory that has been manufactured to Samsung's recognised quality assurance for the best compatibility and most important of all - the best safety standards.
Suitable for syncing
Suitable for syncing data between your phone and computer, this cable provides fast transfer speeds that allow you to quickly copy pictures, movies and much more.
1.2 metre-long cable
This Official Samsung cable is 1.2 metres long, making it essential for not only charging but also syncing whether at home in the office, or on the go.
Compatible with most USB-C-supported devices
This USB-A to USB-C cable is compatible with all devices with a USB-C port, providing optimal charge and transfer efficiency.
Please Note: Whilst this is an Official Samsung product, it will come in bulk packaging.
Vad finns i boxen?
1 x Official Samsung White USB-A to USB-C Sync and Charge 1.2M Cable
Viktiga detaljer
| | |
| --- | --- |
| Part No | EP-DG970BWE |
| UPC | 5905601806301 |
| Mobile Fun ID | 93745 |
| Färg | Vit |
| Brand Name | Samsung |
Leverans & Returer
Vanlig leverans: 45.99 Kr
Pålitlig leveransservice till en låg kostnad som är lämplig för mindre brådskande ärenden. Denna service är ospårad och leveransen tar vanligtvis 5-10 arbetsdagar (DHL Global Mail/Posten).
DHL Expressleverans: 305,99 Kr
En snabb, säker och pålitlig service. Din beställning får prioriterad behandling och du får en fullständig online-spårning så att du kon kontrollera ditt paket hela vägen under leveransen. Tar vanligtvis 1-3 arbetsdagar.


OBS! Du kan bara välja standardleverans med en varukorg under 650 kr. Om så är fallet måste du välja en spårbar leveransmetod.
Om din varukorg är över 925 kr måste du välja DHL Express av säkerhetsskäl
Om din beställning är mindre än € 150 exklusive fraktkostnader, är momsen redan inkluderad i det pris du betalar i kassan. Detta innebär att det inte kommer att finnas någon extra moms för betalning när din beställning levereras till dig. För mer information, se Leverans.
Vägran att betala avgifter - Returpolicy
Om du vägrar att betala importtull eller moms som tas ut på din försändelse kan detta leda till att försändelsen returneras till Mobile Fun. I det här fallet kommer alla relaterade returavgifter plus en lägsta administrationsavgift på £ 5,00 (eller motsvarande valuta till aktuell växelkurs) att debiteras mot ditt slutliga återbetalningsbelopp.


Notera:
De beräknade ankomsttiderna är hämtade direkt från information från våra kurirer. Dessa är endast uppskattningar, MobileFun ansvarar inte om detta varierar. Alla produkter skickas från vårt lager i Storbritannien. Saknade eller försenade varor: Observera att vi kommer att behöva vänta 20 arbetsdagar innan vi kan spåra, ersätta eller återbetala förlorade varor. Mailtjänsten kommer inte att vara tillgänglig för högvärdiga beställningar, expressleveransmetoden kommer att tillämpas.
Kompatibilitet
Samsung:
A6 Plus 2018
,
A71 5G
,
Book 2 Pro 360
,
Book Pro
,
Dex
,
Galaxy A01
,
Galaxy A02s
,
Galaxy A03
,
Galaxy A03 Core
,
Galaxy A03 US Version
,
Galaxy A03s
,
Galaxy A04s
,
Galaxy A10
,
Galaxy A10e
,
Galaxy A10s
,
Galaxy A11
,
Galaxy A12
,
Galaxy A13 4G
,
Galaxy A13 5G
,
Galaxy A14
,
Galaxy A20
,
Galaxy A20e
,
Galaxy A21
,
Galaxy A21s
,
Galaxy A22 4G
,
Galaxy A22 5G
,
Galaxy A23 5G
,
Galaxy A24
,
Galaxy A3
,
Galaxy A3 2015
,
Galaxy A3 2016
,
Galaxy A3 2017
,
Galaxy A3 2018
,
Galaxy A30
,
Galaxy A30s
,
Galaxy A31
,
Galaxy A32 4G
,
Galaxy A32 5G
,
Galaxy A34 5G
,
Galaxy A40
,
Galaxy A40s
,
Galaxy A41
,
Galaxy A42 5G
,
Galaxy A5
,
Galaxy A5 2015
,
Galaxy A5 2016
,
Galaxy A5 2017
,
Galaxy A50
,
Galaxy A50s
,
Galaxy A51
,
Galaxy A51 5G
,
Galaxy A52
,
Galaxy A52 5G
,
Galaxy A52s 5G
,
Galaxy A53 5G
,
Galaxy A54 5G
,
Galaxy A6 2018
,
Galaxy A6 Plus 2018
,
Galaxy A60
,
Galaxy A6s
,
Galaxy A7
,
Galaxy A7 2015
,
Galaxy A7 2016
,
Galaxy A7 2017
,
Galaxy A7 2018
,
Galaxy A70
,
Galaxy A70s
,
Galaxy A71
,
Galaxy A71 5G
,
Galaxy A72
,
Galaxy A72 5G
,
Galaxy A73
,
Galaxy A8
,
Galaxy A8 2018
,
Galaxy A8 Plus 2018
,
Galaxy A80
,
Galaxy A82 5G
,
Galaxy A8s
,
Galaxy A9
,
Galaxy A9 2016
,
Galaxy A9 2018
,
Galaxy A90 5G
,
Galaxy Alpha
,
Galaxy Amp 2
,
Galaxy Amp Prime
,
Galaxy Avant
,
Galaxy Book 2 Pro
,
Galaxy Book 2 Pro 360
,
Galaxy Core 4G
,
Galaxy Core Prime
,
Galaxy E5
,
Galaxy E7
,
Galaxy Express Prime
,
Galaxy Fold
,
Galaxy Grand Prime
,
Galaxy J Max
,
Galaxy J1
,
Galaxy J1 2015
,
Galaxy J1 Ace 4G
,
Galaxy J1 Mini
,
Galaxy J2
,
Galaxy J2 2015
,
Galaxy J3
,
Galaxy J3 2017
,
Galaxy J3 2017 US Version
,
Galaxy J3 Pro
,
Galaxy J3 V
,
Galaxy J5
,
Galaxy J5 2015
,
Galaxy J5 2016
,
Galaxy J5 2017
,
Galaxy J5 Prime
,
Galaxy J6
,
Galaxy J6 2018
,
Galaxy J6 Plus
,
Galaxy J7
,
Galaxy J7 2015
,
Galaxy J7 2017
,
Galaxy J7 2018
,
Galaxy J7 Nxt
,
Galaxy J7 Prime
,
Galaxy J8 2018
,
Galaxy M01
,
Galaxy M10
,
Galaxy M11
,
Galaxy M20
,
Galaxy M21
,
Galaxy M23 5G
,
Galaxy M30
,
Galaxy M31
,
Galaxy M33 5G
,
Galaxy M40
,
Galaxy Mega 5.8
,
Galaxy Mega 6.3
,
Galaxy Note 10
,
Galaxy Note 10 Lite
,
Galaxy Note 10 Plus
,
Galaxy Note 10 Plus 5G
,
Galaxy Note 20
,
Galaxy Note 20 5G
,
Galaxy Note 20 Ultra
,
Galaxy Note 3
,
Galaxy Note 4
,
Galaxy Note 5
,
Galaxy Note 8
,
Galaxy Note 9
,
Galaxy Note Edge
,
Galaxy On5
,
Galaxy On7
,
Galaxy Quantum 2
,
Galaxy S10
,
Galaxy S10 5G
,
Galaxy S10 Lite
,
Galaxy S10 Plus
,
Galaxy S10e
,
Galaxy S2 LTE
,
Galaxy S20
,
Galaxy S20 FE
,
Galaxy S20 FE 5G
,
Galaxy S20 Plus
,
Galaxy S20 Ultra
,
Galaxy S21
,
Galaxy S21 FE
,
Galaxy S21 Plus
,
Galaxy S21 Ultra
,
Galaxy S22
,
Galaxy S22 Plus
,
Galaxy S22 Ultra
,
Galaxy S23
,
Galaxy S23 Plus
,
Galaxy S23 Ultra
,
Galaxy S4
,
Galaxy S4 Active
,
Galaxy S4 Mini
,
Galaxy S4 Zoom
,
Galaxy S5
,
Galaxy S5 Mini
,
Galaxy S6
,
Galaxy S6 Active
,
Galaxy S6 Edge
,
Galaxy S6 Edge Plus
,
Galaxy S7
,
Galaxy S7 Active
,
Galaxy S7 Edge
,
Galaxy S8
,
Galaxy S8 Active
,
Galaxy S8 Plus
,
Galaxy S9
,
Galaxy S9 Plus
,
Galaxy Tab
,
Galaxy Tab 10.1
,
Galaxy Tab 3 10.1
,
Galaxy Tab 3 7.0
,
Galaxy Tab 3 8.0
,
Galaxy Tab 7 Plus
,
Galaxy Tab 7.7
,
Galaxy Tab 8 9
,
Galaxy Tab A 10.1 2016
,
Galaxy Tab A 10.1 2019
,
Galaxy Tab A 10.5
,
Galaxy Tab A 7.0
,
Galaxy Tab A 8.0
,
Galaxy Tab A 8.0 2019
,
Galaxy Tab A 9.7
,
Galaxy Tab A7 10.4
,
Galaxy Tab A7 Lite
,
Galaxy Tab A8 10.5 (2021)
,
Galaxy Tab Active 2
,
Galaxy Tab Active 3
,
Galaxy Tab E 9.6
,
Galaxy Tab S2 8.0
,
Galaxy Tab S2 9.7
,
Galaxy Tab S3
,
Galaxy Tab S4
,
Galaxy Tab S5e
,
Galaxy Tab S6
,
Galaxy Tab S6 Lite
,
Galaxy Tab S7
,
Galaxy Tab S7 FE
,
Galaxy Tab S7 Plus
,
Galaxy Tab S8
,
Galaxy Tab S8 Plus
,
Galaxy Tab S8 Ultra
,
Galaxy TabPro S
,
Galaxy View
,
Galaxy Watch Active 2
,
Galaxy Xcover 3
,
Galaxy Xcover 4
,
Galaxy Z Flip
,
Galaxy Z Flip 3 5G
,
Galaxy Z Flip 4
,
Galaxy Z Flip 5G
,
Galaxy Z Fold 2 5G
,
Galaxy Z Fold 3 5G
,
Galaxy Z Fold 4
,
Samsung Galaxy A33 5G
,
Z1