Olixar Anti-Hack Webcam Cover for Phones, Laptops and Tablets - 3 Pack
Beat the hackers with this 3 pack of stainless steel webcam covers for your Laptops, tablets and smartphones. Quickly gain or deny access to your mobile devices' cameras with this sliding cover. An easy low tech solution to a high tech problem.
| | |
| --- | --- |
| | |
---
| | |
| --- | --- |
| | |
Mest användbara recensioner
Recensioner
Simple and effective

Övergripande tillfredsställelse

282221

| | |
| --- | --- |
| | Mr Mark Haydock |
| | 21st January 2021 |

Must have purchase

Övergripande tillfredsställelse

277117

Great product despite one not sticking to my mobile. Perfect for iPad and laptop. Had forgotten mobile had film protector over screen and unfortunately it came off before I realised it was missing.

| | |
| --- | --- |
| | Hazel Hemsley |
| | 25th October 2020 |

Brilliant

Övergripande tillfredsställelse

268828

These work brilliantly and ensure your privacy preventing scammers using your camera to take over your computer, or attempting to blackmail you.

| | |
| --- | --- |
| | Chris Tindale |
| | 6th June 2020 |
Key Features
Your device's webcam / cameras can be hacked - get protected
Meet the solution to the problem
Small, slim and discreet - case friendly and won't interfere with laptop closure
One size fits all devices - Laptops, Tablets and Smartphones
Stainless steel construction
Beskrivning
Your device's webcam / cameras can be hacked - get protected
None other than the former FBI director James Comey recently recommended that we all cover our webcams with tape for security reasons. Comey believes that doing so is a simple step for people to "take responsibility for their own safety and security."
Apparently he doesn't want to be spied on and really, who does? In questions during a conference at the Center for Strategic and International Studies, Comey revealed that cam-covering is commonplace at the FBI and other government offices. "It's not crazy that the FBI director cares about personal security as well," he added. "If you go into any government office, we all have our little camera things that sit on top of the screen, they all have a little lid that closes down on them. You do that so people who do not have authority don't look at you. I think that's a good thing."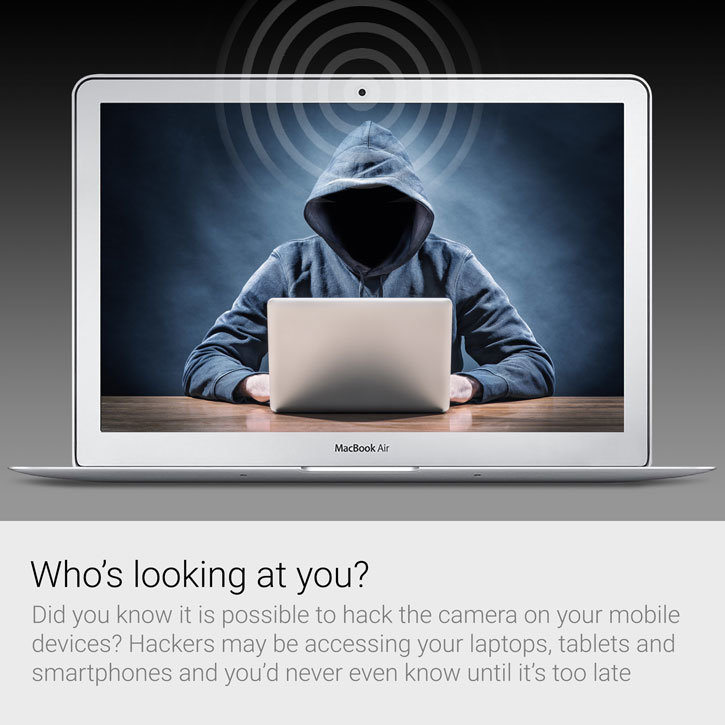 Comey is also quoted as saying he got the idea when he saw "somebody smarter" covering their webcam with tape - that somebody possibly being Facebook founder Mark Zuckerberg, who was also noted to have a piece if tape obscuring the camera on his laptop.
Well, if one of the most secure law enforcement agencies in the world are concerned, and also cutting edge tech companies, maybe we should all consider taking steps to increase our security and deny hackers access to all the many cameras our smart devices feature. You may think that you're not worthy of being targeted compared to global organisations and the rich and powerful but you would be amazed what gaps a camera can fill in when hackers are looking to steal information from you. They can potentially gain access to your digital identity and then from there... the possibilities are quite chilling.
CNN has also reported that hackers have been streaming private cameras from around the world, invading privacy and sharing the footage live on a publicly accessible website.
With hackers carrying out more malicious attacks year on year and the governments of the world waking up to privacy issues with the introduction of GDPR, it has never been more important to be fully aware of your data security. Take an extra step to stop hackers with this Anti-Hack webcam cover.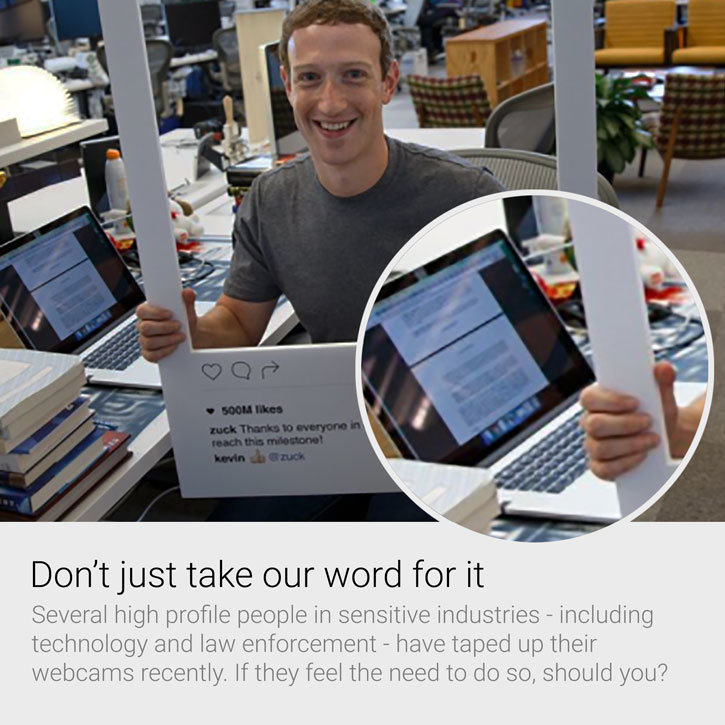 Meet the solution to the problem
You can use a piece of tape of course, but we think you can do a bit better than that. An expensive piece of technology needs something more elegant, functional and long-lasting than a piece of tape. That's why there's the Olixar Anti-Hack Webcam cover. This is a low tech solution to a high tech problem and the premise is as ingenious as it is simple. You can mount the cover in seconds using the adhesive 3M adhesive surface. Once in place, you can slide the cover over your camera to physically deny access to it, then quickly slide it back to gain access to it.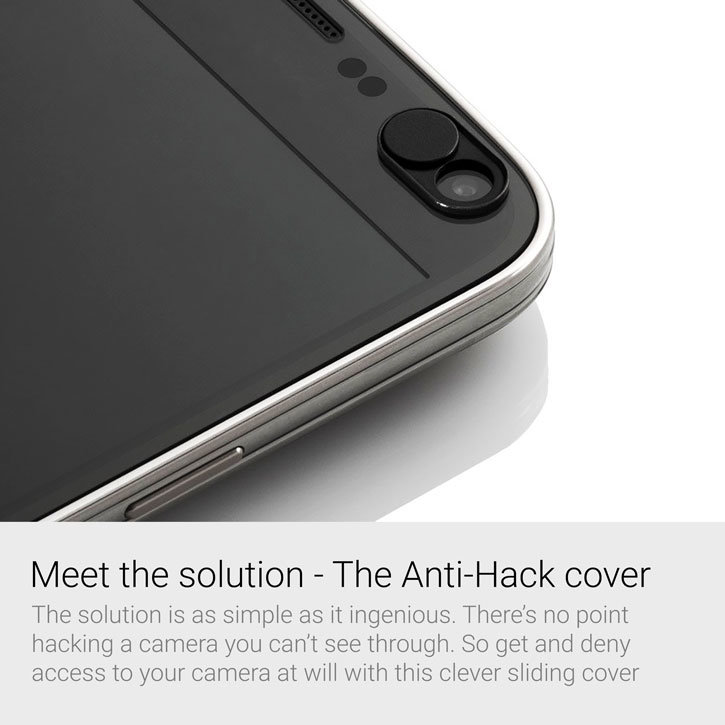 Small, slim and discreet - case friendly and won't interfere with laptop closure
The cover is only 12.5mm wide, 7mm high and at 1mm thick is the world's slimmest, so will not interfere with your laptop closing, nor will it affect most cases for smartphones and tablets. What this means is that you can get on with your life and the Anti-Hack cover will slot in and do it's job without fuss or maintenance. All you need to do is slide it across as required - that's it. Need to take a selfie? Slide it open and snap away. Then close it when you're done. If you don't need your camera why not cover it up? And if you do, well, you can gain access to it in the blink of an eye.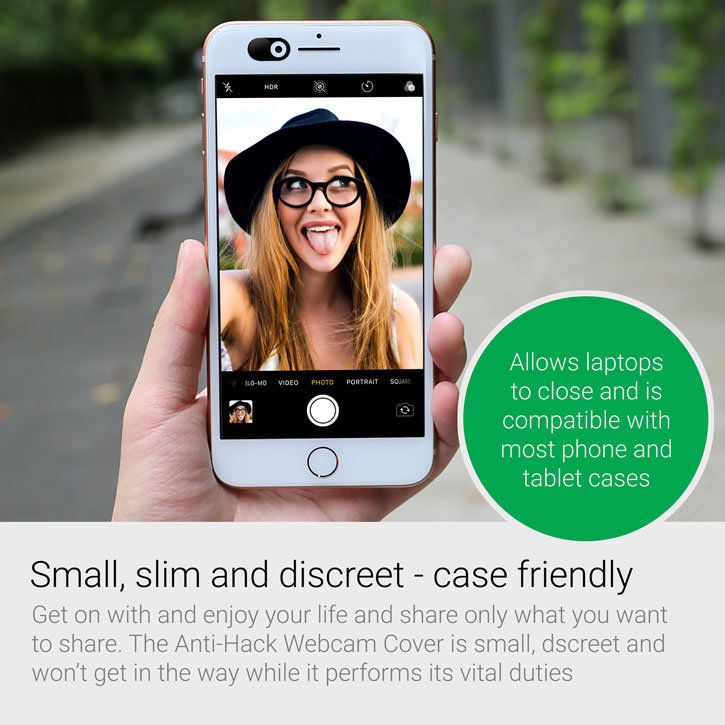 One size fits all devices - Laptops, Tablets and Smartphones
There are three covers in the pack and they are all the same size because they will all work with your smart portable webcam-equipped devices. With front facing webcams being of very similar size these covers will fit your laptops, tablets and smartphones.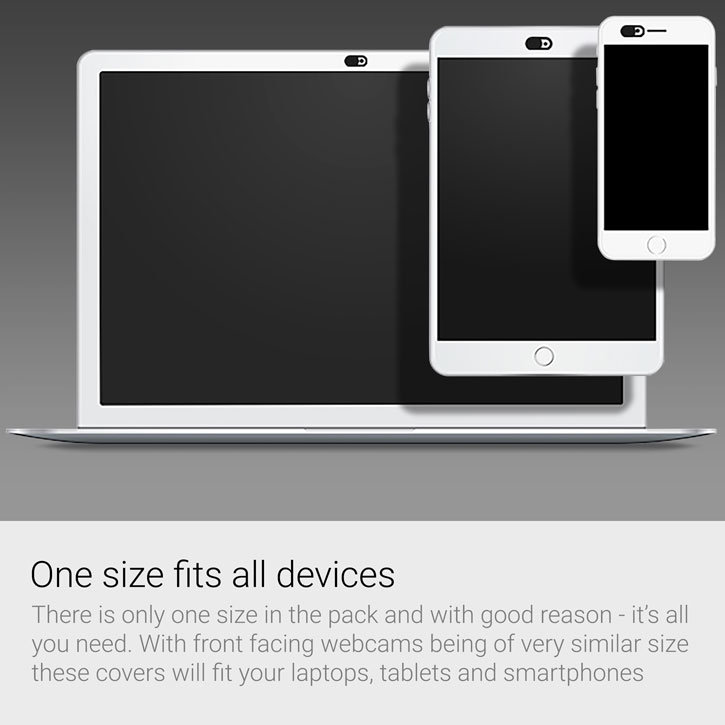 Stainless steel construction
The cover is made from high quality, sturdy and long-lasting stainless steel. It's thin and light enough to stay out of the way and add hardly any bulk to your devices. It will take as much punishment as your device in the event of any fall or impact.
Viktiga detaljer
| | |
| --- | --- |
| Part No | olx-65868 |
| UPC | 5055401759991 |
| Mobile Fun ID | 65868 |
| Färg | Svart |
| Brand Name | Olixar |
Videos
Leverans & Returer
Vanlig leverans: 45.99 Kr
Pålitlig leveransservice till en låg kostnad som är lämplig för mindre brådskande ärenden. Denna service är ospårad och leveransen tar vanligtvis 5-10 arbetsdagar (DHL Global Mail/Posten).
DHL Expressleverans: 305,99 Kr
En snabb, säker och pålitlig service. Din beställning får prioriterad behandling och du får en fullständig online-spårning så att du kon kontrollera ditt paket hela vägen under leveransen. Tar vanligtvis 1-3 arbetsdagar.


OBS! Du kan bara välja standardleverans med en varukorg under 650 kr. Om så är fallet måste du välja en spårbar leveransmetod.
Om din varukorg är över 925 kr måste du välja DHL Express av säkerhetsskäl
Om din beställning är mindre än € 150 exklusive fraktkostnader, är momsen redan inkluderad i det pris du betalar i kassan. Detta innebär att det inte kommer att finnas någon extra moms för betalning när din beställning levereras till dig. För mer information, se Leverans.
Vägran att betala avgifter - Returpolicy
Om du vägrar att betala importtull eller moms som tas ut på din försändelse kan detta leda till att försändelsen returneras till Mobile Fun. I det här fallet kommer alla relaterade returavgifter plus en lägsta administrationsavgift på £ 5,00 (eller motsvarande valuta till aktuell växelkurs) att debiteras mot ditt slutliga återbetalningsbelopp.